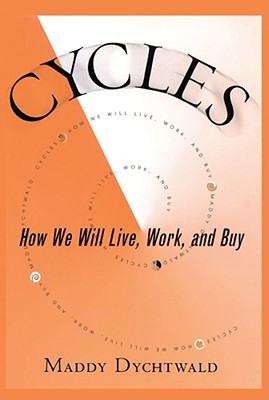 Cycles
How We Will Live, Work and Buy
Paperback

* Individual store prices may vary.
Description
We are at the beginning of a new era, a lifestyle revolution that will transform who we are and what we do, as people and as consumers. The predictable linear, chronological life pathways of past generations -- from school, to marriage, to work, to children, to retirement -- made sense when the average human life span was shorter. Now, life expectancy has soared to age seventy-seven and promises to rise further, and we are starting to make decisions based less on age and more on lifestyle and life stage. Maddy Dychtwald, a leading expert on generational marketing, offers a radical new view of how Americans live, work, and buy according to the new freedoms and responsibilities of our shifting age demographics, and the staggering implications for the marketplace, the workplace, and our lives. Longer, healthier lifetimes have resulted in a dramatic change in the way we perceive our options. Highly educated and independent men and women are finding adventure, challenge, connection, and a sense of purpose at all ages. People now return to school at age thirty-five, have children at forty-five, start new careers at fifty, remarry at seventy. This cyclic approach to life, Dychtwald observes, has begun to replace the old linear path. Drawing on her studies of demographics, Dychtwald examines how age is becoming less and less of a determining factor in our choices, and less relevant to how we are defined in our own eyes and by society at large. She brings into focus the wealth of opportunities opened up by the new cyclic approach. Providing examples of pioneers on nonlinear life paths, the author explores increasingly widespread phenomena such as lifelong learning, serial careers, the revamped institutions of marriage and the family, expanded recreational pursuits, healthy aging, and "nonretirement." Based on her years of experience in generational marketing, Dychtwald also investigates how companies might best respond to the ways our new lifestyles are reshaping the workplace and the economy. How can a business satisfy and profit from the new ageless consumer? How can companies benefit from a cyclic workforce? For individuals and companies alike, Dychtwald's groundbreaking book will open up exhilarating new possibilities.
Free Press, 9780743226158, 292pp.
Publication Date: August 1, 2008