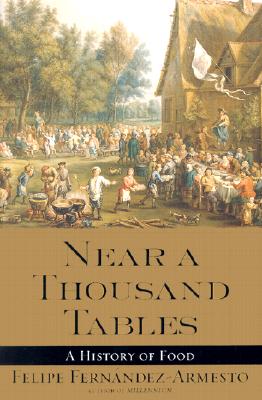 Near a Thousand Tables: A History of Food (Hardcover)
A History of Food
Free Press, 9780743226448, 272pp.
Publication Date: June 4, 2002
* Individual store prices may vary.
or
Not Currently Available for Direct Purchase
Description
Critically acclaimed as a landmark in culinary writing, this savory and engrossing account by a New York Times Notable author leaves no placemat unturned as it chronicles the fascinating story of food across the centuries. We are what we eat; every ingredient of our past and present identities may be divined from the food on our tables. In this ambitious and brilliantly achieved work, world-renowned historian Felipe Fernandez-Armesto charts the eventful course of humankind's relationship to food through the ages. Fernandez-Armesto leads readers through the eight great revolutions in the world history of food: the origins of cooking, which set us on a course apart from other species; the ritualization of eating, which brought meaning to our relationships with what we ate; the inceptions of herding and agriculture, perhaps the two greatest revolutions of all; the rise of social inequality, which made food a status symbol and led to the development of haute cuisine; the long-range trade in food, which did much to break down all cultural barriers; the ecological exchanges, which revolutionized the distribution of plants and livestock; and, finally, the globalization of mass-produced food. Revealing everything from what vegetarians have in common with cannibals to what the Aztec derivation is for "avocado, " Near a Thousand Tables is superb--a narrative history of the highest order.

Advertisement