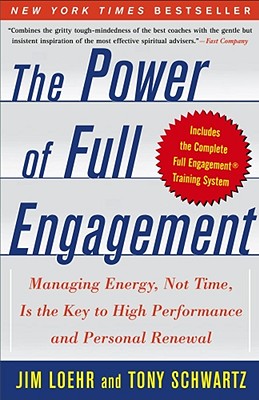 The Power of Full Engagement (Paperback)
Managing Energy, Not Time, Is the Key to High Performance and Personal Renewal
Free Press, 9780743226752, 256pp.
Publication Date: January 3, 2005
* Individual store prices may vary.
Description
This groundbreaking New York Times bestseller has helped hundreds of thousands of people at work and at home balance stress and recovery and sustain high performance despite crushing workloads and 24/7 demands on their time. "Combines the gritty toughmindedness of the best coaches with the gentle-but-insistent inspiration of the most effective spiritual advisers" (Fast Company).

We live in digital time. Our pace is rushed, rapid-fire, and relentless. Facing crushing workloads, we try to cram as much as possible into every day. We're wired up, but we're melting down. Time management is no longer a viable solution. As bestselling authors Jim Loehr and Tony Schwartz demonstrate in this groundbreaking book, managing energy, not time, is the key to enduring high performance as well as to health, happiness, and life balance. The Power of Full Engagement is a highly practical, scientifically based approach to managing your energy more skillfully both on and off the job by laying out the key training principles and provides a powerful, step-by-step program that will help you to:

* Mobilize four key sources of energy
* Balance energy expenditure with intermittent energy renewal
* Expand capacity in the same systematic way that elite athletes do
* Create highly specific, positive energy management rituals to make lasting changes

Above all, this book provides a life-changing road map to becoming more fully engaged on and off the job, meaning physically energized, emotionally connected, mentally focused, and spiritually aligned.
About the Author
Dr. Jim Loehr is Chairman, CEO, and Co-founder of the Human Performance Institute, a training company that has successfully utilized energy management technology to improve the productivity and engagement levels of elite performers from the world of business, sport, medicine, and law enforcement for over 30 years. A world-renowned performance psychologist, Dr. Loehr is the author of thirteen books including the national bestseller The Power of Full Engagement.

Dr. Loehr appeared on The Oprah Winfrey Show where an entire program was devoted to his ground-breaking Energy Management training system and concepts. He has also appeared on NBC's Today Show, ABC's Nightline with Ted Koppel, The CBS Evening News with Dan Rather and CBS Morning News. Dr. Loehr's work has been chronicled in leading national publications including the Harvard Business Review, Fortune, Newsweek, Time, US News and World Report, Success, Fast Company and Omni.

Dr. Loehr has worked with hundreds of world-class performers from the arenas of sport, business, medicine and law enforcement including Fortune 100 executives, FBI, Hostage Rescue Teams and Army Special Forces. His elite clients from the world of sport include: golfer Mark O'Meara; tennis players, Jim Courier, Monica Seles, and Arantxa Sanchez-Vicario; boxer Ray Mancini; hockey players Eric Lindros and Mike Richter; and Olympic gold medal speed skater Dan Jansen.

Dr. Loehr possesses a masters and doctorate in psychology, serves on several prestigious scientific boards and is a full member of the American Psychological Association, the American College of Sports Medicine, the National Strength and Conditioning Association, and the Association for the Advancement of Applied Sport Psychology.

Tony Schwartz is the founder and president of The Energy Project, a consulting group that works with a number of Fortune 500 companies, including American Express, Credit Suisse, Ford, General Motors, Gillette, Master Card, and Sony. He was a reporter for the New York Times, an associate editor at Newsweek, and a staff writer for New York Magazine and Esquire and a columnist for Fast Company. He co-authored the #1 worldwide bestseller The Art of the Deal with Donald Trump, and after that wrote What Really Matters. He co-authored the #1 New York Times bestseller The Power of Full Engagement with Jim Loehr.

Praise For The Power of Full Engagement: Managing Energy, Not Time, Is the Key to High Performance and Personal Renewal…
Fast Company Combines the gritty tough-mindedness of the best coaches with the gentle but insistent inspiration of the most effective spiritual advisers.

Stephen R. Covey, author of The 7 Habits of Highly Effective People A remarkable application of the athletic metaphor to high-performing people and organizations.