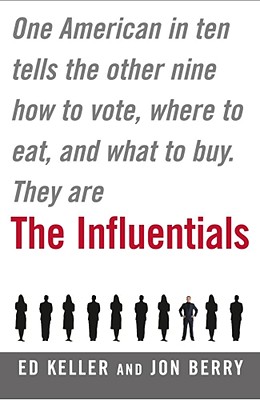 The Influentials: One American in Ten Tells the Other Nine How to Vote, Where to Eat, and What to Buy (Hardcover)
One American in Ten Tells the Other Nine How to Vote, Where to Eat, and What to Buy
Free Press, 9780743227292, 368pp.
Publication Date: January 13, 2003
* Individual store prices may vary.
or
Not Currently Available for Direct Purchase
Description
One American in ten tells the other nine how to vote, where to eat, and what to buy. They are
The Influentials
Who are they? The most influential Americans -- the ones who tell their neighbors what to buy, which politicians to support, and where to vacation -- are not necessarily the people you'd expect. They're not America's most affluent 10 percent or best-educated 10 percent. They're not the "early adopters," always the first to try everything from Franco-Polynesian fusion cooking to digital cameras. They are, however, the 10 percent of Americans most engaged in their local communities...and they wield a huge amount of influence within those communities. They're the campaigners for open-space initiatives. They're church vestrymen and friends of the local public library. They're the Influentials...and whether or not they are familiar to you, they're very well known to the researchers at RoperASW. For decades, these researchers have been on a quest for marketing's holy grail: that elusive but supremely powerful channel known as word of mouth. What they've learned is that even more important than the "word" -- what is said -- is the "mouth" -- who says it. They've identified, studied, and analyzed influence in America since the Standard Oil Company of New Jersey (now Exxon) hired Elmo Roper himself to develop a model for identifying opinion leaders, and in The Influentials, they are finally ready to share their results. A few samples:
- Influentials have been the "early majority" -- leading indicators of what Americans will be buying -- for more than five decades, from choosing energy-efficient cars in the 1970s to owning computers in the 1980s to adopting 401(k)s and IRAs in the 1990s to using the Internet and cell phones today.
- Influentials have led the way in social development as well, from the revival of self-reliance (in managing their own health care, investments, and consumption) to mass skepticism about the marketing claims of everything from breakfast food to politicians.
Although America's Influentials have always been powerful, they've never been more important than now. Today, a fragmented market has made it possible for Influentials to opt out of mass-message advertising, which means that a different route must be taken to capture their hearts and minds. The Influentials is a map for that route, a map that explains who these people are, how they exercise influence, and how they can be targeted. The Influentials features a series of rules and guidelines for marketing to Influentials; case studies of products that have prospered because of Influential marketing (and products that have failed because they lacked it); a history of the phenomenon...and why Influentials are more influential today than ever; and profiles of twelve real-life Influentials.
Both an intellectual adventure and a hands-on marketing manual, The Influentials is an extraordinary gold mine of information and analysis that no business can afford to ignore.
About the Author
Ed Keller is the CEO of RoperASW. A global marketing research and consulting firm, RoperASW serves many of the world's leading companies in the areas of brand strategy, customer loyalty management, corporate reputation, and communications effectiveness. A nationally recognized expert on marketing and consumer trends, Keller serves on the board of directors of the Advertising Research Foundation and is a member of the Market Research Council.
Praise For The Influentials: One American in Ten Tells the Other Nine How to Vote, Where to Eat, and What to Buy…
Emanuel Rosen
Author of The Anatomy of Buzz

The Influentials is one of the best business books I've read in recent years. Packed with rich data collected over several decades, the book explains how to identify Influentials and clarifies many misconceptions about them. Clear, insightful, and extremely well researched, this book is a must-read for anyone interested in marketing or public opinion.


Philip Kotler
S. C. Johnson Distinguished Professor of International Marketing, Kellogg School of Management, Northwestern University, and author of Kotler on Marketing

Keller and Berry have done a superb job in presenting data and ideas on who the Influentials are and how to work with and through them. This is what the New Marketing is all about.


Seth Godin
Author of Permission Marketing

This is a groundbreaking (and breathtaking) book. It starts with a brilliant insight and backs it up with so much logic and so many facts that the conclusions are irrefutable. It leaves only two questions: Are you an Influential? And what are you going to do about integrating this book's insight into your job, your passions, and your life?


Daniel Yankelovich
Chairman, Public Agenda and Viewpoint Learning, Inc.

The study of the nation's opinion leaders is one of social science's most useful endeavors, and Keller and Berry have now added to Roper's distinguished work in the field. What makes their book so enlightening is the rich, detailed, factual picture they draw of how the most active community leaders and forerunner consumers interact with the rest of us. The book is must reading not only for marketers, but also for everyone interested in how our society and culture function.


Brian Tracy
Author of Victory: Applying the Proven Principles of Military Strategy to Achieve Greater Success in Your Business and Personal Life

Your success in business and personal life will be determined more by your contacts and relationships than any other factor. This practical, powerful book shows you how to develop more of both.


Ray Kotcher
Senior Partner and CEO, Ketchum Public Relations Worldwide

In keeping with Malcolm Gladwell's The Tipping Point, Keller and Berry provide a roadmap based on decades of research that can guide communications planning in a much more productive and efficient manner than has been possible to date.
Advertisement