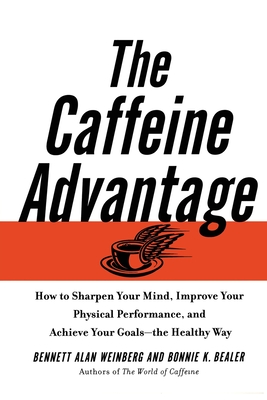 The Caffeine Advantage (Paperback)
How to Sharpen Your Mind, Improve Your Physical Performance and Schieve Your Goals
Free Press, 9780743228978, 272pp.
Publication Date: November 15, 2010
* Individual store prices may vary.
Description
We all know that caffeine helps keep you awake and alert, but the things we don't know about caffeine could fill a book. Now Bennett Alan Weinberg and Bonnie K. Bealer, the award-winning authors of "The World of Caffeine, " the foremost reference book on the science and culture of caffeine, have done just that -- creating an authoritative self-help guide to caffeine's little-known practical secrets and benefits. Based on groundbreaking new research, "The Caffeine Advantage" offers step-by-step programs that show you how caffeine can improve your IQ, memory, mood, athletic ability, physical condition, and performance at work. In the process, Weinberg and Bealer debunk common myths and misconceptions -- that caffeine causes hypertension, anxiety, heart disease, even cancer -- and show the many positive and life-changing effects of strategic caffeine use.
Everyone in today's competitive environment is looking for an edge, and caffeine can provide the little boost that gives you the advantage you need to succeed. The key is knowing what caffeine can do for you and how to use it effectively. Here are just some of its amazing advantages:
Improves your ability to think clearly and solve problems, and can actually raise your IQ Increases your short-term memory, helps you concentrate, and relieves boredom Is a powerful antioxidant, combating muscle damage and helping you to stay younger Improves your mood and overcomes depression, creating an "attitude of success" Helps you run, swim, and cycle longer and faster Increases the painkilling power of common analgesics and is itself a strong pain reliever Grows brain cells in the areas of the brain responsible for long-term memory
Already widely acclaimed by many of the foremost academic researchers in the world, including Dr. Paul Kulkosky, whose foreword introduces the book, "The Caffeine Advantage" delivers a comprehensive program for working smarter, not harder, and for improving mood, athletic fitness, and mental performance.