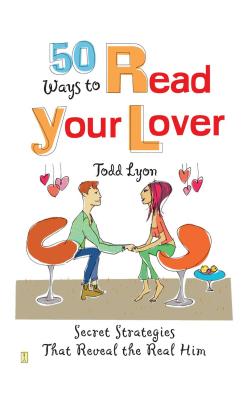 50 Ways to Read Your Lover
Secret Strategies That Reveal the Real Him
Paperback

* Individual store prices may vary.
Description
Who Is the Man You Love?
Well, that depends. Does he rescue stray cats? Do his pupils widen when he looks at you? Are his thumbs especially long? Is he an only child?
Questions such as these are anything but random; the answers can help determine the true nature of the man you desire. In this provocative yet playful collection of quizzes, Todd Lyon draws upon ancient mysticism, modern psychology, common sense, and uncommon sense -- all with the goal of uncovering the secrets of your lover's soul.
Some love-divining techniques you already know about (astrology, palmistry, the Tarot); some you don't (what the contents of his refrigerator says about him). It's like having a whole library of romantic reference books magically condensed to fit in your purse. Whether the man on your mind is a distant crush or a long-term partner, you can use this book to:
Test his emotional availability

Predict his bedroom behavior

Analyze his body language

Judge his control-freak quotient

Rate his Prince Charming potential

Hikers have their compasses. Pilots have their global positioning systems. Now you, O seeker of lasting love, can cut a true path through the jungle of relationships, using
50 Ways to Read Your Lover
as your insightful, timeless, and endlessly entertaining guide.
Touchstone, 9780743229562, 240pp.
Publication Date: February 4, 2003
About the Author
Todd Lyon has written more than a dozen books, including The Intuitive Businesswoman, The New Year's Eve Compendium, and Hugs & Kisses. She is a columnist for the New Haven Register, and her articles have appeared in Cosmopolitan, Saveur, Biography, and Bust. She lives in New Haven, Connecticut.