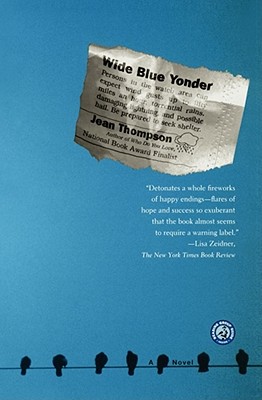 Wide Blue Yonder
A Novel
Paperback

* Individual store prices may vary.
Description
From National Book Award-finalist Jean Thompson comes a compelling, highly charged novel about a family ruled by the weather, the drastic changes that hit their atmosphere, and a midwestern town where chaos doesn't reign -- it pours.
Something big is headed for Springfield, Illinois, a place where weather of all kinds -- climatic, emotional, and even metaphysical -- tends to come in extremes. It is the summer of 1999, and through the long months of blazing heat and fearsome tempests, a quirky quartet of locals will try to ride out the stormy season, each in their own way.
Uncle Harvey believes he is the embodiment of the Weather Channel's "Local Forecast," even though all meteorological evidence points to the contrary. His niece, Josie, is fixed with a different predicament -- she's young and pretty, with nowhere to go except into deep trouble. Her mother, Elaine, lives under a façade of cheerful efficiency, desperately masking a far more urgent quest. And all of them are caught in the path of the loner Rolando -- a human cyclone from the West, fueled by a boundless rage and determined to make Springfield the focal point of his wrath.
Praise For Wide Blue Yonder: A Novel…
The New York Times Book Review Lisa Zeidner Detonates a whole fireworks of happy endings -- flares of hope and success so exuberant that the book almost seems to require a warning label.

Deirdre Donahue USA Today Wide Blue Yonder offers precisely the kind of beautifully crafted, intelligent, imaginative writing that serious readers crave....Each sentence deserves to be appreciated.

Andrew Roe San Francisco Chronicle Wide Blue Yonder reaffirms Thompson's stature as one of our most lucid and insightful writers.
Simon & Schuster, 9780743229586, 368pp.
Publication Date: January 1, 2003
About the Author
Jean Thompson is a novelist and short story writer. Her works include the novels A Cloud in the Shape of a Girl, She Poured Out Her Heart, The Humanity Project, The Year We Left Home, City Boy, Wide Blue Yonder, The Woman Driver, and My Wisdom and the short story collections The Witch and Other Tales Re-Told, Do Not Deny Me, Throw Like a Girl, Who Do You Love (a National Book Award finalist), Little Face and Other Stories, and The Gasoline Wars. Thompson's short fiction has been published in many magazines and journals, including the New Yorker, and anthologized in The Best American Short Stories and The Pushcart Prize. Thompson has been the recipient of Guggenheim and National Endowment for the Arts fellowships, among other accolades, and has taught creative writing at the University of Illinois at Urbana-Champaign, Reed College, Northwestern University, and other colleges and universities. She lives in Urbana, Illinois.