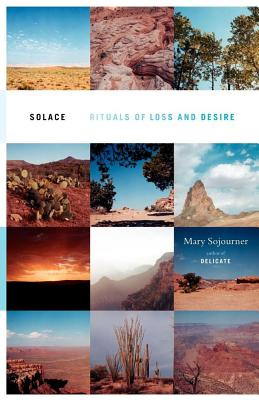 Solace
Rituals of Loss and Desire
Paperback

* Individual store prices may vary.
Other Editions of This Title:
Hardcover (3/2/2004)
Description
NPR commentator Mary Sojourner, "a pithy yet sensuous, spiritual yet ferocious writer" "(Booklist), " delivers a powerful memoir about the joys of rejecting the pace, addictions, and false values of society...and learning to live without compromise.
Twenty years ago, Mary Sojourner was a mental health consultant and counselor in Rochester, New York, a divorced mother of three, longing for her real work, her real home. She found it in Flagstaff, Arizona, in a remote two-room cabin that had no running water and only a wood stove for heat, but offered Sojourner everything she needed in terms of light, beauty, joy, and the perfect setting for writing and reconnecting.
"Solace" is a book about obsession and release, and the lifelong search for balance in a world revolving around appetite and acceleration. Written in short, beautifully crafted pieces, the book carries the reader through Sojourner's life, from a restrained Catholic childhood to the excesses of her generation, through motherhood and divorce to her quiet, solitary existence in the Southwest, where she has learned the importance of living at the right pace.
Sojourner's voice is as compelling on the page as it is on the radio -- lively, funny, moving, combining the outspoken out-of-stepness of Anne Lamott with the environmental activism and poetic prose of Terry Tempest Williams. In chapters with titles such as "God Is Coming and She Is Pissed" and "How to Leave: Leave," her vivid personality, passion, and sense of humor come through. This is a book for women everywhere -- those who recognize their own truths in Mary's life and younger readers who will find inspiration in her hard-won wisdom.
Praise For Solace: Rituals of Loss and Desire…
John Nichols Author of The Milagro Beanfield War This is a lovely memoir, written with humor, insight, chutzpah, and great tenderness. Mary Sojourner is an original, as feisty as they come, and dedicated to the struggle to forge a better world. She is also a writer of tremendous passion and compassion, expressed in a simple, lyrical, wonderful prose style that carries you along effortlessly like a beautiful ocean wave.



Craig Childs Author of The Secret Knowledge of Water This is damn beautiful writing. Cruel with honesty. Erotic as wind, filthy like mud-stomped shoes. Mary hides nothing. Her words will track all over your soul. Savor this stuff, this terrified, righteous nakedness of hers. It is rare.



Rudolfo Anaya Author of Bless Me, Ultima Fierce and poetic. Solace is a tempest of singing the blues, recording a life fully lived, and crying out with passion to save our Western lands. These honest and sometimes heartbreaking revelations are not only for women, they're for all who have tasted the raw emotions of life.



Page Lambert Author of In Search of Kinship Mary Sojourner has the wisdom to envision a new life and the courage to embrace it. Solace is both challenge and meditation.



Ann Cummins Author of Red Ant House: Stories Readers and writers 'aching for their own company, afraid to find it,' can take refuge in Mary Sojourner's lovely memoir.



W. D. Ehrhart Author of Beautiful Wreckage: New and Selected Poems Sojourner examines her life with an unblinking honesty that is touching, fascinating, and often startling. It is a story of loss and recovery, courage and discovery, a woman constantly finding herself and her place in the world.
Scribner Book Company, 9780743229692, 176pp.
Publication Date: July 27, 2007