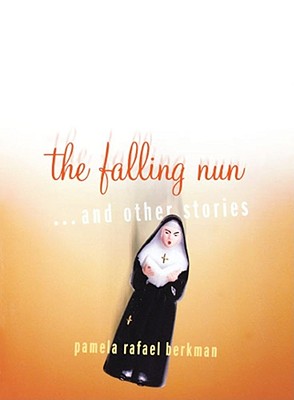 The Falling Nun
And Other Stories
Paperback

* Individual store prices may vary.
Description
In this collection of twelve dazzling and sensual stories, Pamela Rafael Berkman explores the perplexities of contemporary life through the eyes of women searching for love, truth, and faith. In the title story, a group of coworkers who order miniature plastic nuns rumored to bring love suffer surprising and disheartening consequences. In "Tat," the heroine gets an elaborate Victorian valentine tattooed on her arm and learns the real meaning of wearing her heart on her sleeve. And in "Merry Christmas, Charlie Brown," the classic holiday program brings temporary peace to a troubled young woman. Throughout, miracles and revelations abound, appearing in the most unexpected places -- a planetarium on a college campus, a yuppie Christmas party, a silversmith's booth at an outdoor fair, a corner bar on Halloween. In capturing the dilemmas and difficulties of our times, Berkman brings to life the eternal longings of the human heart.
Praise For The Falling Nun: And Other Stories…
Richard Russo author of Empire Falls Thoroughly engaging...[Berkman's] vivid, angled characters always manage to snag us on their jagged hopes and fears.

Robin Maxwell author of Virgin and The Queen's Bastard The subtle way in which these stories are linked and interwoven takes my breath away. Berkman's rendering of character and situations is unflinching, yet each piece is brushed with a touch of magic. Astonishing!

Joan Silber author of Lucky Us Pamela Berkman's stories beautifully evoke the chancy, surprising lives of young women, characters whose inventiveness glows -- along with their impatience -- under love's injustices. This is clear-eyed fiction, full of freshness and wit.
Touchstone, 9780743230193, 176pp.
Publication Date: February 11, 2003
About the Author
Pamela Rafael Berkman is the author of Her Infinite Variety: Stories of Shakespeare and the Women He Loved and The Falling Nun. Her short story "Duty" from Her Infinite Variety appears in Houghton Mifflin Harcourt's leading national ELA curriculum, Collections, and the title story from The Falling Nun was nominated for a Pushcart Prize. Pam is an acquiring editor at North Atlantic Books and has worked in the publishing industry for over twenty years. She lives in the San Francisco Bay Area with her family.