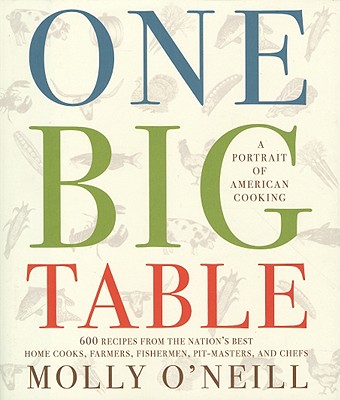 One Big Table
One Big Table
Hardcover

* Individual store prices may vary.
Description
From noted food writer Molly O'Neill comes a lavish portrait of our nation's contemporary culinary tradition with the best recipes from the greatest home cooks.

Ten years ago, former New York Times food columnist Molly O'Neill embarked on a transcontinental road trip to investigate reports that Americans had stopped cooking at home. As she traveled highways, dirt roads, bayous, and coastlines gathering stories and recipes, it was immediately apparent that dire predictions about the end of American cuisine were vastly overstated. From Park Avenue to trailer parks, from tidy suburbs to isolated outposts, home cooks were channeling their family histories as well as their tastes and personal ambitions into delicious meals. One decade and over 300,000 miles later, One Big Table is a celebration of these cooks, a mouthwatering portrait of the nation at the table.

Meticulously selected from more than 20,000 contributions, the cookbook's 600 recipes are a definitive portrait of what we eat and why. In this lavish volume—illustrated throughout with historic photographs, folk art, vintage advertisements, and family snapshots—O'Neill celebrates heirloom recipes like the Doughty family's old-fashioned black duck and dumplings that originated on a long-vanished island off Virginia's Eastern Shore, the Pueblo tamales that Norma Naranjo makes in her horno in New Mexico, as well as modern riffs such as a Boston teenager's recipe for asparagus soup scented with nigella seeds and truffle oil. Many recipes offer a bridge between first-generation immigrants and their progeny—the bucatini with dandelion greens and spring garlic that an Italian immigrant and his grandson forage for in the Vermont woods—while others are contemporary variations that embody each generation's restless obsession with distinguishing itself from its predecessors. O'Neill cooks with artists, writers, doctors, truck drivers, food bloggers, scallop divers, horse trainers, potluckers, and gourmet club members.

In a world where takeout is just a phone call away, One Big Table reminds us of the importance of remaining connected to the food we put on our tables. As this brilliantly edited collection shows on every page, the glories of a home-cooked meal prove how every generation has enriched and expanded our idea of American food. Every recipe in this book is a testament to the way our memories—historical, cultural, and personal—are bound up in our favorite and best family dishes.

As O'Neill writes, "Most Americans cook from the heart as well as from a distinctly American yearning, something I could feel but couldn't describe until thousands of miles of highway helped me identify it in myself: hometown appetite. This book is a journey through hundreds of 'hometowns' that fuel the American appetite, recipe by recipe, bite by bite."
Praise For One Big Table: One Big Table…
"A remarkable collection of recipes and life stories that is utterly unlike the usual all-in-one cookbook. One Big Table is a glorious hodgepodge of classic American dishes--lobster rolls, zucchini casserole and Boston baked beans--and newer additions to the country's repertoire such as Vietnamese pho, Lebanese date cookies, tzatziki and curried crab."—The Washington Post

"Overwhelming and yet completely absorbing, a cookbook to dip into for years."—The New York Times

"Ms. O'Neill profiles landmark culinary moments and the people behind today's artisanal foods. In the hands of a lesser writer, it could all be hard going, but Ms. O'Neill renders it as sweet and light as apple crisp."—The Wall Street Journal

"In this thick, lavishly illustrated doorstop of a book, the armchair gastronome can embrace the full breadth of the contemporary American culinary scene."—The Los Angeles Times

"One Big Table by Molly O'Neill (Simon & Schuster) is the cookbook everybody should (and will) be talking about. Part cookbook and part documentary, One Big Table paints a picture of America's vibrant culinary traditions. As everybody knows, the soul of a place is best encapsulated by what is found on the table. One Big Table does more than just show us what we like to eat—it reminds us who we are."—Christian Science Monitor

"A sprawling portrait of American cooking today."—The New York Post

"A profound reflection of America's delicious diversity…O'Neill's language is something to savor."—Saveur

"O'Neill, former New York Times Magazine food writer and author, has compiled an informative and heartwarming refutation of the demise of American home cooking. Ten years and many miles in the making, this collection celebrates the nation's culinary diversity, both ethnically and agriculturally, and offers a uniquely intimate look at what home cooking in America is truly like today...As engaging in the armchair as it is in the kitchen, this book is an enduring testament to our historic traditions and the new culinary forays being made by American home cooks."—Publishers Weekly (starred review)

"This is One Big Book, filled to the brim with anecdotes, references, information, memorabilia, and recipes that are truly representative of all U.S. cultures and ethnicities. O'Neill, former New York Times
Magazine food columnist, respected author (New York Cookbook) and TV host, has outdone herself. It's
difficult not to stop and savor every page, from the gee-whiz type of historical illustration and
mouthwatering food photography to the stories of new and well-honed cooks."—Barbara Jacobs, Booklist (starred review)

"Part cookbook, part ethnography, part cultural history, this volume contains all that it advertises in its subtitle. . . . This survey of American home cooking from the ground level is wide-ranging, attractive, and just plain huge."—Library Journal

"Like your grandma's china armoire that doesn't quite fit into your studio apartment, [One Big Table] is a real treasure. So make room."—Gael Greene

"So many cookbooks these days are more aspirational than inspirational, yet Molly O'Neill keeps it real with loving depictions of what American home cooks are actually making in their kitchens today. As she showcases food from small communities across the country, American cooking starts to look, smell, and taste like what it truly is: a cuisine full of contradictions—'fine and silly, real and fake, wonderful and wonderfully awful, heartfelt, homemade and factory-issued'—and yet, O'Neill writes, 'very much alive.' . . . The recipes, often enriched by history and family lore, make this book a meaningful and personal vehicle for understanding, eating, and ultimately enjoying American home cooking."—Epicurious.com

"[A] foodie's dream come true…One Big Table is more than a cookbook…It's a beautiful, impressive gift for cooks and non-cooking foodies alike."—BlogCritics.org

"One Big Table—what a beautiful way to talk about the richness and diversity of American food! It brings us all to an important, soulful place."—Alice Waters, author of In the Green Kitchen and The Art of Simple Food

" Only a writer with O'Neill's energy, smarts and big Midwestern heart could locate and present, recipe by recipe, the soul of American cuisine and provide this rich, varied and indispensible resource."—Ethan Becker, co-author of The Joy of Cooking with Marion Becker and Irma Rombauer

"Recipe by recipe, Molly O'Neill has assembled a portrait of America at the table, and the best part is, we're all invited to pull up a chair. One Big Table is an exuberant, generous book, a celebration of the foods we love to eat, from Debby Morse's Ranch Dressing to Marya and Otis Baron's Dilly Beans with Thai Chiles, Mrs. Sun's Braised New Year's Sea Bass, and Ed Behr's Baked Maple Custard. I'll take one of everything."—Molly Wizenberg, author of A Homemade Life


"Part cookbook, part documentary, Molly O'Neill's One Big Table is an accurate snapshot of America and highlights the unforgettable threads that make its culinary tapestry complete. While Molly opens a window to our past, she also offers undeniable proof that our definition of "American Cuisine" is constantly evolving."—Thomas Keller, chef, The French Laundry, and author of The French Laundry Cookbook and Ad Hoc At Home
Simon & Schuster, 9780743232708, 864pp.
Publication Date: November 16, 2010
About the Author
For a decade, Molly O'Neill was the food columnist for The New York Times Magazine and the host of the PBS series Great Food. Her work has appeared in many national magazines, and she is the author of three cookbooks, including the award-winning The New York Cookbook. She lives in New York City.
or
Not Currently Available for Direct Purchase