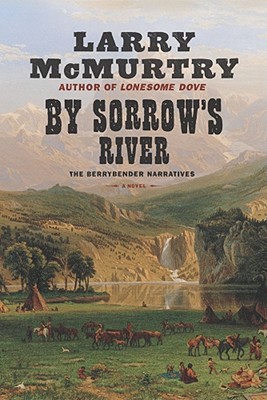 By Sorrow's River (Hardcover)
The Berrybender Narratives, Book 3
Simon & Schuster, 9780743233040, 368pp.
Publication Date: November 4, 2003
* Individual store prices may vary.
Description
In this tale of adventure, at once high-spirited and terrifying, set against the background of the West that Larry McMurtry has made his own, By Sorrow's River is an epic in its own right with an extraordinary young woman as its leading figure.
At the heart of this third volume of his Western saga remains the beautiful and determined Tasmin Berrybender, now married to the "Sin Killer" and mother to their young son, Monty, who, although Tasmin intends him to be an English gentleman like his grandfather, is at the moment living the childhood of a savage.
By Sorrow's River continues the Berrybender party's trail across the endless Great Plains of the West toward Santa Fe, where they intend, those who are lucky enough to survive the journey, to spend the winter. Along the way, Tasmin, whose husband, Jim Snow, has vanished off to scout ahead of them, falls in love with Pomp Charbonneau, only to see him killed by the ruthless commander of Spanish troops, while her father, Lord Berrybender, now reduced to limping along on one leg and a pair of crutches, increasingly makes a fool of himself by falling in love with his own mistress. They meet up with a vast cast of characters from the history of the West: Kit Carson, the famous scout; Le Partezon, the fearsome Sioux war chief; The Ear Taker, an Indian whose specialty is creeping up on people while they are asleep and slicing an ear off with a sharp knife; two aristocratic Frenchmen whose eccentric aim is to cross the Great Plains by hot air balloon; a party of slavers led by the cowardly but bloodthirsty Obregon; a band of raiding Pawnee; and many other astonishing characters who prove, once again, that the rolling, grassy plains are not, in fact, nearly as empty of life as they look. Most of what is there is dangerous and hostile, even when faced with Tasmin's remarkable, frosty sangfroid. She is one of the strongest and most interesting of Larry McMurtry's women characters, fairly resistant to shock, whether at bloodshed, the behavior of children, or sex, and at the center of this powerful and ambitious novel of the West.
or
Not Currently Available for Direct Purchase