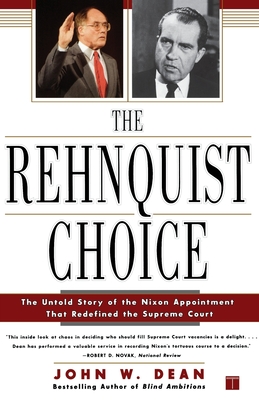 The Rehnquist Choice (Paperback)
The Untold Story of the Nixon Appointment That Redefined the Supreme Court
Free Press, 9780743233200, 352pp.
Publication Date: October 8, 2002
Other Editions of This Title:
Digital Audiobook (9/25/2001)
Digital Audiobook (2/20/2012)
* Individual store prices may vary.
Description
In 1971, William Rehnquist seemed the perfect choice to fill a seat on the United States Supreme Court. He was a young, well-polished lawyer who shared many of President Richard Nixon's philosophies and faced no major objections from the Senate. But in truth, the nomination was anything but straightforward. Now, for the first time, former White House counsel John Dean tells the improbable story of Rehnquist's appointment.
Dean weaves a gripping account packed with stunning new revelations: of a remarkable power play by Nixon to stack the court in his favor by forcing resignations; of Rehnquist himself, who played a role in the questionable ousting of Justice Abe Fortas; and of Nixon's failed impeachment attempt against William 0. Douglas. In his initial confirmation hearings, Rehnquist provided outrageous and unbelievable responses to questions about his controversial activities in the '50s and '60s -- yet he was confirmed with little opposition. It was only later, during his confirmation as Chief Justice, that his testimony would come under fire -- raising serious questions as to whether he had perjured himself
Using newly released tapes, his own papers, and documents unearthed from the National Archives, John Dean offers readers a place in the White House inner circle, providing an unprecedented look at a government process, and a stunning expose of the man who has influenced the United States Supreme Court for the last thirty years.
About the Author
John W. Dean appears frequently on television, discussing matters relating to the Nixon presidency. He regularly reviews books for The New York Times Book Review, Chicago Tiibune, and Salon.com. He writes a regular column on legal, government, and political matters for the Internet publication Writ at wwwfindlaw.com
Praise For The Rehnquist Choice: The Untold Story of the Nixon Appointment That Redefined the Supreme Court…
Robert D. Novak National Review The inside look at chaos in deciding who should fill Supreme Court vacancies is a delight....Dean has performed a valuable service in recording Nixon's tortuous course to a decision.

David Greenberg The Washington Monthly The most detailed behind-the-scenes account ever written of a high court nomination...impressive for many reasons: its lucid prose, its subtle humor, its relentlessly logical argumentation...a terrific page-turner.

Garrett Epps The Washington Post Watergate buffs will find [The Rehnquist Choice] jolly nostalgic fun.