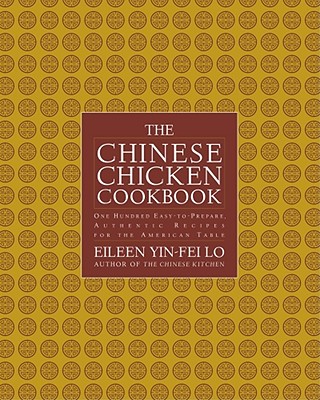 The Chinese Chicken Cookbook: 100 Easy-To-Prepare, Authentic Recipes for the American Table (Hardcover)
100 Easy-To-Prepare, Authentic Recipes for the American Table
Simon & Schuster, 9780743233415, 256pp.
Publication Date: February 2, 2004
* Individual store prices may vary.
or
Not Currently Available for Direct Purchase
Description
In China the chicken represents the phoenix, the mythological bird that rose from its ashes and that symbolizes rebirth and reaffirmation. Because of this deeply held belief, chicken is served at every New Year celebration, every wedding feast, and every birthday dinner. The chicken is honored for its eggs, its meat, and the flavor it provides for stocks and broths. Because of the reverence for this bird, the Chinese prepare chicken in myriad ways. Chicken is steamed, baked, boiled, stir-fried, deep-fried, pan-fried, and roasted. It is served hot, cold, or at room temperature. No part of the chicken is wasted from its bones to its skin to its feet, a Chinese delicacy.
Now, renowned Chinese cooking expert Eileen Yin-Fei Lo, who has been called "the Marcella Hazan of Chinese cooking" by The New York Times, brings her love of Chinese cooking and traditional Chinese chicken recipes to American home cooks in The Chinese Chicken Cookbook.
The Chinese Chicken Cookbook brings together more than one hundred of the best traditional and modern chicken recipes of China from simple stir-fries to more elaborate celebration dishes. In chapters that pair chicken with noodles and rice and in chapters on soup, preparing chicken in the wok, and cooking it whole, readers will find dozens of delicious, easy-to-prepare delicacies. Recipes such as Two-Sesame Chicken, Hot and Sour Soup, Ginger Noodles with Chicken, Chicken Water Dumplings, Chicken Stir-Fried with Broccoli, Mu Shu Chicken with Bok Bang, Mah-Jongg Chicken, and Asparagus Wrapped in Minced Chicken offer new and flavorful ways to prepare chicken whether you're making a quick weeknight meal or having dinner guests on a Saturday night.
Although these recipes use ingredients that home chefs can find in the international section of a well-stocked supermarket or on the Internet, Lo includes the Chinese names for ingredients and recipes, rendered in beautiful Chinese calligraphic characters. Not only decorative, these characters can help you locate unfamiliar ingredients in a Chinese market. The Chinese Chicken Cookbook also has sections on how to select and clean a chicken, a detailed explanation of Chinese ingredients, suggested equipment (including how to properly season a wok), and how to cook a perfect pot of rice.
With wonderful family stories from the author's childhood in China, The Chinese Chicken Cookbook is not just a cookbook for your cookbook library, it is a source of culinary inspiration.
Praise For The Chinese Chicken Cookbook: 100 Easy-To-Prepare, Authentic Recipes for the American Table…
Ming Tsai
chef of Blue Ginger, author, and host of Food Network's East Meets West with Ming Tsai

Eileen Yin-Fei Lo, a celebrated chef and teacher of Chinese cuisine, has created an invaluable resource for authentic and delicious Chinese recipes for the world's most popular protein, deliciously demonstrating the endless and varied amount of dishes the provinces of China offer. Enjoy!


Martin Yan
author of Martin Yan's Chinatown Cooking and host of Yan Can Cook
It is with great pleasure that I welcome Eileen's latest cookbook. More than a collection of memorable recipes, this book has captured the cultural essence of the chicken in Chinese history.


Jacques Pepin
chef, author, and cooking show host

No matter how much you know about Chinese cooking, you'll learn something new from Eileen Yin-Fei Lo. I know that whenever I want to eat Chinese-style chicken, I will go directly to this well-thought-out cookbook, get inspired by its mouth-watering recipes, and cook.


Sara Moulton
chef, author, and host of Food Network's Sara's Secrets

Leave it to Eileen Yin-Fei Lo to reinvent chicken, the tasty bird we think we know too well. My favorite Chinese cookbook author has brought us one hundred smart new ways to look at chicken.


Corinne Trang
author of Authentic Vietnamese Cooking and Essentials of Asian Cuisine

Eileen Yin-Fei Lo offers historical and cultural context for dozens of delicious classic and contemporary Chinese recipes, all guaranteed to excite the palate.


Michael Batterbury
founding editor, Food Arts and Food & Wine magazines

Both professionals and amateurs will have difficulty deciding which of the one hundred deliciously lucid recipes in her latest volume, The Chinese Chicken Cookbook, to begin reproducing. A masterful feat that should persuade American chicken aficionados to leap from the frying pan into the wok.
Advertisement