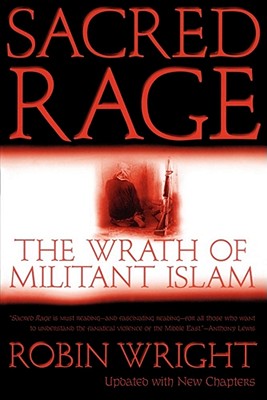 Sacred Rage
The Wrath of Militant Islam
Paperback

* Individual store prices may vary.
Other Editions of This Title:
Hardcover, German (1/1/2002)
Description
For a generation, Muslim extremists have targeted Americans in an escalation of terror that culminated in the September 11 attacks. Our shared confusion -- Who are the attackers? Why are we targets? -- is cleared away in a book as dramatic as it is authoritative.
Updated with new chapters on Afghanistan and the the broader Islamic movement, Sacred Rage combines Robin Wright's extraordinary reportage on the Islamic world with an historian's grasp of context to explain the roots, the motives, and the goals of the Islamic resurgence. Wright talked to terrorists, militant religious leaders, and fighters from Beirut to Islamabad and Kabul. Their voices of rage reverberate here -- right up to the attacks in New York and Washington.
Across continents extends a challenge we fail to understand at our peril. Sacred Rage now casts light on the war being fought in the shadows.
Praise For Sacred Rage: The Wrath of Militant Islam…
Anthony Lewis Sacred Rage is must reading -- and fascinating reading -- for all those who want to understand the fanatical violence of the Middle East.



Roger Mudd If ever there was the right book on the right subject for the right readers at the right time, Sacred Rage is it.



Brian Jenkins terrorism expert, the Rand Corporation For Americans trying to understand the campaign of terror, for leaders formulating Middle East policy, for anyone interested in a gripping story of religious fervor, political intrigue, and ruthless violence, Robin Wright's book is a must. It reads like a novel. It informs better than any book I have seen on this subject.



Houston Chronicle No one has covered the terrorist bombings as Robin Wright does, including the origin and larger political and ethnic context in which they took place...No popular account contributes more to our understanding than Sacred Rage.



Marvin Kalb former chief diplomatic correspondent, NBC News A real public service. Robin Wright knows her subject and writes about it with style and substance.



The Kansas City Star Robin Wright manages, against all odds, to get a fix on a phenomenon that is complex, elusive, and kaleidoscopic. Most impressive, however, is her ability to assess the situation with a clear eye, an objective attitude, and enormous intelligence.
Touchstone Books, 9780743233422, 336pp.
Publication Date: December 1, 2001