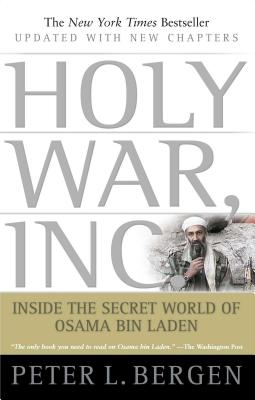 Holy War, Inc.: Inside the Secret World of Osama Bin Laden (Paperback)
Inside the Secret World of Osama Bin Laden
Free Press, 9780743234955, 320pp.
Publication Date: June 4, 2002
Description
On September 11, 2001, the world changed forever as more than three thousand men, women, and children lost their lives in the deadliest terrorist attack on American soil. The attack was masterminded by Osama bin Laden and his Jihad group -- an organization that CNN's terrorism analyst Peter Bergen calls Holy War, Inc. One of the few Western journalists to have interviewed bin Laden face-to-face, Bergen has produced the definitive book on the global Jihadist network, revealing: How bin Laden lives, travels, and communicates with his "cells."
How his role in the crushing defeat of the Soviet Union in Afghanistan made him a hero to Muslims all over the world.
How the bombings of the American embassies in Africa and the USS Cole in Yemen were planned and executed.
What we can expect from Islamic extremists in the future. Above all, Peter Bergen helps us to see bin Laden's organization in a radically new light: as a corporation that has exploited modern technology and weaponry in the service of global terrorism and the destruction of the West.
Both author and publisher will donate a portion of the proceeds from this book to the International Committee of the Red Cross.
Praise For Holy War, Inc.: Inside the Secret World of Osama Bin Laden…
The Washington Post


The only book you need to read on Osama bin Laden.


Deidre Donahue
USA Today

An accessible, comprehensive, nonhysterical examination of who bin Laden is, where he comes from...and what motivates him.


Bruce Hoffman
The Atlantic Monthly

Unusually astute....Holy War, Inc. shines [with] Bergen's insight into bin Laden's mind-set and behavior....Required reading for anyone seeking to understand him.
Advertisement