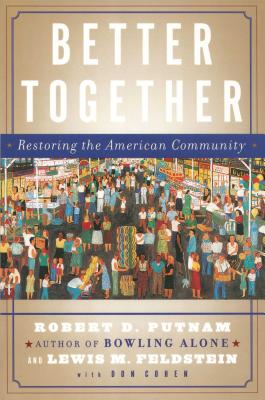 Better Together (Paperback)
Restoring the American Community
Simon & Schuster, 9780743235471, 336pp.
Publication Date: September 2, 2004
* Individual store prices may vary.
Description
In his acclaimed Bowling Alone, Robert Putnam describes the United States as a nation in which we have become increasingly disconnected from one another and in which our social structures have disintegrated. But in the final chapter of that book he detects hopeful signs of civic renewal. In Better Together Putnam and coauthor Lewis Feldstein tell the inspiring stories of people who are reweaving the social fabric by bringing their own communities together or building bridges to others.
Better Together examines how people across the country are inventing new forms of social activism and community renewal. An arts program in Portsmouth, New Hampshire, brings together shipyard workers and their gentrified neighbors; a deteriorating, crime-ridden neighborhood in Boston is transformed by a determined group of civic organizers; an online "virtual" community in San Francisco allows its members to connect with each other as well as the larger group; in Wisconsin schoolchildren learn how to participate in the political process to benefit their town. As our society grows increasingly diverse, say Putnam and Feldstein, it's more important than ever to grow "social capital," whether by traditional or more innovative means. The people profiled in Better Together are doing just that, and their stories illustrate the extraordinary power of social networks for enabling people to improve their lives and the lives of those around them.
About the Author
Robert D. Putnam is the Peter and Isabel Malkin Professor of Public Policy at Harvard University. Nationally honored as a leading humanist and a renowned scientist, he has written fourteen books and has consulted for the last four US Presidents. His research program, the Saguaro Seminar, is dedicated to fostering civic engagement in America. Visit RobertDPutnam.com.

Lewis M. Feldstein is president of the New Hampshire Charitable Foundation. Feldstein cochaired the Saguaro Seminar, worked with the civil rights movement in Mississippi, was a senior staff member for former New York City mayor John V. Lindsay, and was formerly provost of the Antioch/New England Graduate School. He lives in Hancock, New Hampshire.
Praise For Better Together: Restoring the American Community…
The Hartford Courant If Bowling Alone made readers think, perhaps Better Together will make them act.