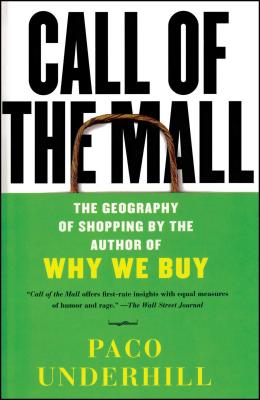 Call of the Mall (Paperback)
The Geography of Shopping by the Author of Why We Buy
Simon & Schuster, 9780743235921, 240pp.
Publication Date: January 3, 2005
* Individual store prices may vary.
Description
The author of the international bestseller Why We Buy—praised by The New York Times as "a book that gives this underrated skill the respect it deserves"—now takes us to the mall, a place every American has experienced and has an opinion about.

Paco Underhill, the Margaret Mead of shopping and author of the huge international bestseller Why We Buy, now takes us to the mall, a place every American has experienced and has an opinion about. The result is a bright, ironic, funny, and shrewd portrait of the mall—America's gift to personal consumption, its most powerful icon of global commercial muscle, the once new and now aging national town square, the place where we convene in our leisure time.

It's about the shopping mall as an exemplar of our commercial and social culture, the place where our young people have their first taste of social freedom and where the rest of us compare notes. Call of the Mall examines how we use the mall, what it means, why it works when it does, and why it sometimes doesn't.
About the Author
Paco Underhill is the founder and CEO of Envirosell, Inc. His clients include Microsoft, McDonald's, adidas, and Estee Lauder. He is a regular contributor to The Wall Street Journal and The New York Times. He lives in New York City.
Praise For Call of the Mall: The Geography of Shopping by the Author of Why We Buy…
The Atlantic Fascinating...Call of the Mall's unique contribution to the field is less the sociological analysis than the shock of personal recognition Underhill provokes as he lasers in on some unexamined moments in modern life. Only a retail specialist could be so attuned to the human condition in all its shabby, formless boredom...Underhill is our bard of the suburbs.

The Boston Globe Underhill has the social scientist's uncanny ability to describe what is right under our noses with a lucidity that makes the mundane buying, selling, chowing down, hanging out positively riveting. The picture he leaves us with is surprisingly provocative...What malls do right, what they do wrong, and how they must adapt or else come into clear focus in this entertaining, unconventional survey.

The New York Times Underhill's sharp observations...have an obvious appeal for anyone who has ever been manipulated by discreet mall psychology.