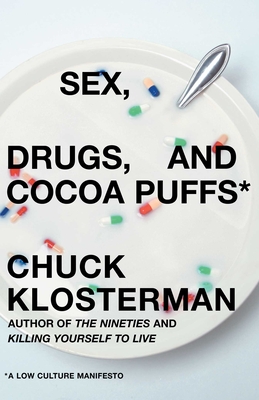 Sex, Drugs, and Cocoa Puffs: A Low Culture Manifesto (Hardcover)
A Low Culture Manifesto
Scribner Book Company, 9780743236003, 256pp.
Publication Date: August 26, 2003
* Individual store prices may vary.
or
Not Currently Available for Direct Purchase
Description
From the author of the highly acclaimed heavy metal memoir, Fargo Rock City, comes another hilarious and discerning take on massively popular culture--set in Chuck Klosterman's den and your own--covering everything from the effect of John Cusack flicks to the crucial role of breakfast cereal to the awesome power of the Dixie Chicks. Countless writers and artists have spoken for a generation, but no one has done it quite like Chuck Klosterman. With an exhaustive knowledge of popular culture and an almost effortless ability to spin brilliant prose out of unlikely subject matter, Klosterman attacks the entire spectrum of postmodern America: reality TV, Internet porn, Pamela Anderson, literary Jesus freaks, and the real difference between apples and oranges (of which there is none). And don't even get him started on his love life and the whole Harry-Met-Sally situation. Whether deconstructing Saved by the Bell episodes or the artistic legacy of Billy Joel, the symbolic importance of The Empire Strikes Back or the Celtics/Lakers rivalry, Chuck will make you think, he'll make you laugh, and he'll drive you insane--usually all at once. Sex, Drugs, and Cocoa Puffs is ostensibly about art, entertainment, infotainment, sports, politics, and kittens, but--really--it's about us. All of us. As Klosterman realizes late at night, in the moment before he falls asleep, "In and of itself, nothing really matters. What matters is that nothing is ever 'in and of itself.'" Read to believe.
Praise For Sex, Drugs, and Cocoa Puffs: A Low Culture Manifesto…
Gary Shteyngart
author of The Russian Debutante's Handbook

The funniest thing I've read in an ice age...Chuck Klosterman is a Gulliver among the cult-crit Lilliputians. America should wrap her freckled arms around Klosterman's scrawny neck and press him to her bosom. He may be the last true patriot among us.


Bob Odenkirk
of Mr. Show

Chuck Klosterman has the time and inclination to think through the issues that you didn't even know were issues. Laugh at him, or with him, or both...but you will laugh, dammit, you will laugh.
Advertisement