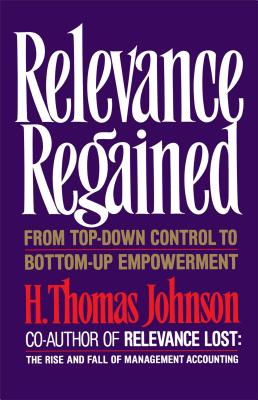 Relevance Regained
Paperback

* Individual store prices may vary.
Description
Building on his pathbreaking, award-winning bestseller, Relevance Lost, H. Thomas Johnson presents a devastating critique of the top-down hierarchical accounting systems that have dominated American corporations since the 1950s.

In Relevance Regained, Johnson shows exactly how "managing by remote control" through results-oriented accounting information has obstructed the real business objective: to reduce process variation and lead times for the purpose of obtaining and keeping satisfied customers. The failure of most American businesses to be competitive and profitable, he contends, is their reliance on management accounting information to control people's actions and productivity.

Cost-focused imperatives from on high must be replaced, Johnson asserts, with information systems that link actions with imperatives of global competition. Self-managing work teams, according to Johnson, must own problem-solving information to reduce variation, delays, and excess in processes.

Johnson prescribes the necessary changes in management principles that must replace the outdated style associated with the industrial revolution. Responsiveness to customers—not accounting costs—and flexibility—reducing lead times and removing constraints—are necessary for sustained competitive excellence and long-term profitability.

Johnson discusses the radical overhauls of companies, such as General Electric's work-outs/"best practices" program and Harley-Davidson's work simplification programs, and shows how these strong commitments to new strategies maximize a company's most important assets: people and time. To be globally competitive, he claims, a company's work must be directed toward selling to customers, not just selling products.
Praise For Relevance Regained…
Steven C. Wheelwright co-author, Revolutionizing Product Development and Dynamic Manufacturing This outstanding work will be of tremendous value to managers. It provides a whole new frame of reference focused on what they care most about -- competitive advantage.



Alfred M. King Senior Vice President, Valuation Research Corporation Relevance Lost by Johnson and Kaplan was the key accounting book of the 1980s. Relevance Regained will be the seminal volume of the 1990s.



William A. Golomski President, W. A. Golomski & Associates Provides new approaches and methods needed for managers at all levels to jump start the journey of continuous improvement.



Richard J. Schonberger author, Building a Chain of Customers Johnson's prescriptions for sharp course corrections are right on target.



Thomas J. Murrin Dean, School of Business Administration, Duquesne University, and former President, Energy and Advanced Technology Group, Westinghouse Electric Co. Very timely -- and positively impactful!



Thomas M. O'Brien former manager, Product Management Programs, General Electric Co. In their search for companies that are making fundamental improvements, Wall Street analysts would be wise to understand Johnson's message.



Harry V. Roberts Graduate School of Business, University of Chicago A very important contribution to Total Quality Management...ranks with Schonberger, Ishikawa, Deming, Shingo, Ohno, Box, and Juran.



James M. Hurd President/CEO, Planar Systems, Inc. Articulates the fundamental changes that U.S. managers must lead to reverse the free-fall in American industrial competitiveness.
Free Press, 9780743236270, 240pp.
Publication Date: January 15, 2002
About the Author
H. Thomas Johnson is Professor of Business Administration at Portland State University in Oregon and Distinguished Consulting Professor of Sustainable Business at Bainbridge Graduate Institute in Washington. He co-authored Relevance Lost: The Rise and Fall of Management Accounting, which is considered one of the most influential management books of the twentieth century by the Harvard Business Review.