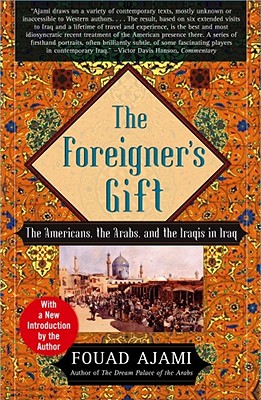 The Foreigner's Gift (Paperback)
The Americans, the Arabs, and the Iraqis in Iraq
Free Press, 9780743236683, 416pp.
Publication Date: June 12, 2007
* Individual store prices may vary.
Description
Fouad Ajami, one of the world¹s foremost authorities on Middle Eastern politics and the recipient of the 2006 Bradley Prize for Outstanding Achievement and the National Humanities Medal of 2006, offers a brilliant, illuminating, and lyrical portrait of the ongoing struggle for Iraq and of the American encounter with that volatile Arab land. In a new introduction, the author discusses the many major events that have taken place since the publication of the hardcover, including the implications of Saddam¹s execution, the Baker-Hamilton Commission, and the return to Iraq of General David Petraeus. He renders unsparingly the growing American disillusionment with the war and the struggle within Iraq between those keen to hold on to the promise of the new country called up by America¹s war and others determined to thwart that promise and overwhelm it with sectarian strife. Ajami situates the current unrest within the context of Iraq¹s recent history of dictatorship and its rich, diverse cultural heritage. He applies his incisive political commentary, his broad and deep historical view, his mastery of the Arabic language and Arabic sources, and his lustrous prose to every aspect of his subject, wresting a coherent, fascinating, and textured picture from the media storm of fragmented information. The Foreigner¹s Gift is the book we all need to read in order to understand what is happening in Iraq today and what the future might hold for all of us.
About the Author
Fouad Ajami is the Majid Khadduri Professor of Middle East Studies at the School of Advanced International Studies at Johns Hopkins University. He is a contributing editor to U.S. News & World Report and a consultant to CBS News on Middle Eastern affairs. Ajami is a frequent contributor to Foreign Affairs, The Wall Street Journal, The New Republic, and other periodicals and outlets worldwide. Born in Lebanon and raised in Beirut, he is based in New York City.
Praise For The Foreigner's Gift: The Americans, the Arabs, and the Iraqis in Iraq…
"Ajami draws on a variety of contemporary texts, mostly unknown or inaccessible to Western authors.... The result, based on six extended visits to Iraq and a lifetime of travel and experience, is the best and most idiosyncratic recent treatment of the American presence there. A series of firsthand portraits, often brilliantly subtle, of some fascinating players in contemporary Iraq." -- Victor Davis Hanson, Commentary

"The Foreigner's Gift stands in the tradition of Nobel Laureate V. S. Naipaul.... A wide-ranging, brilliant investigation of Iraq and the Arab world since the ouster of Saddam Hussein. Elegantly, Ajami interweaves history, literature, philosophy, politics, and religion with a sensitive grasp of politics in Iraq and the United States. A masterpiece." -- Josef Joffe, Publisher-editor of Die Zeit

"Few have the requisite ability and courage to accurately diagnose the Arab world's myriad political maladies.... Fouad Ajami, who has performed the task admirably on more than one occasion, does not disappoint with The Foreigner's Gift." -- Rayyan al-Sharaf, San Francisco Chronicle
or
Not Currently Available for Direct Purchase