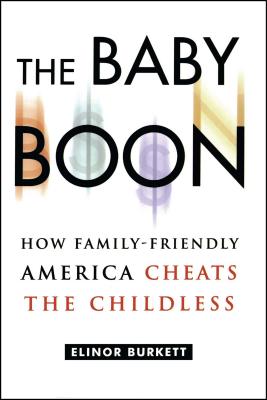 The Baby Boon (Paperback)
How Family-Friendly America Cheats the Childless
Free Press, 9780743242646, 272pp.
Publication Date: April 5, 2002
* Individual store prices may vary.
Description
Who stays late at the office when Mom leaves for a soccer match? Whose dollars pay for the tax credits, childcare benefits, and school vouchers that only parents can utilize? Who is forced to take those undesirable weekend business trips that Dad refuses? The answer: Adults without children -- most of them women -- have shouldered more than their share of the cost of family-friendly America. Until now.
"Equal Pay for Equal Work" is one of the foundations of modern American work life. But workers without children do not reap the same rewards as do their colleagues who are parents. Instead, as veteran journalist Elinor Burkett reveals, the past decade has seen the most massive redistribution of wealth since the War on Poverty -- this time not from rich to poor but from nonparents, no matter how modest their means, to parents, no matter how affluent. Parents today want their child and their Lexus, too -- which accounts for the new culture of parental privilege that Burkett aptly calls "the baby boon."
Burkett reports from the front lines of the workplace: from the hallowed newsroom of "The New York Times" to the floor of a textile factory in North Carolina to a hospital in Boston. She exposes a simmering backlash against perks for parents, from workers who are losing their tempers and fighting for their rights. She spells out how tax breaks for families with six-figure incomes are not available to childless people earning half as much. And she tells the dramatic story of how pro-family conservatives and feminists became strange bedfellows on the issue of pro-family rights, leading to an increase in workplace and government entitlements for parents -- at the same time as the childless poor lost their public benefits.
Americans are on a demographic collision course between the growing numbers of mothers in the workforce and the swelling ranks of a new interest group: childless adults. Armed with hard data and grassroots reporting, Elinor Burkett points the way to a more equitable future. With an inside look at what some companies are already doing to redress the grievances of childless workers and a hard assessment of what the truly needy -- children and adults -- require in order to survive, Burkett fires the first shot in the battle to come.
Praise For The Baby Boon: How Family-Friendly America Cheats the Childless…
Ann Coulter author of High Crimes and Misdemeanors It has been said that people never notice the prejudices of their own time. Just as fish can't describe water, humans can't see the biases, mores, and conventions of their own little worlds. Elinor Burkett is one of the rare flying fish who can discern the prejudices of our own era and describe them in colorful, often hilarious, detail. This amazing and important book will shake up today's class of favored citizens.



Michelangelo Signorile author of Life Outside and Queer in America Finally, someone's got the guts to point to the elephant in the room: that America discriminates, sometimes quite shamelessly, against those who do not have children. No one better could be making this clarion call than the compelling, relentless truth-teller, Elinor Burkett. The Baby Boon speaks for so many of us who stay silent, fearful of being tarred as "anti-family." But Burkett's is not a book that is "anti" anything. The Baby Boon is about inclusivity and fairness, about the American values of equality and justice. A meticulous journalist with facts and figures in hand, she makes a case that simply cannot be dismissed.