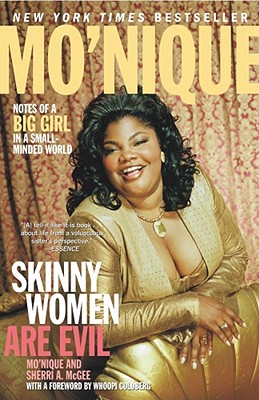 Skinny Women Are Evil (Paperback)
Notes of a Big Girl in a Small-Minded World
Atria Books, 9780743244565, 224pp.
Publication Date: April 6, 2004
Other Editions of This Title:
Digital Audiobook (3/31/2003)
Hardcover (4/1/2003)
* Individual store prices may vary.
Description
Now in paperback, popular comedienne and television star Mo'Nique tells us how to be a big woman in a small woman's world. It is NO secret that I am a BIG girl. Always have been, always will be. The only way I'll ever wear a size 6, or even a 16, is if you add them together. That's right: I wear a size 22. And I'm proud, because I wear it well. Hell, even Ray Charles and Stevie Wonder can see that Such is the life--and largesse--of Mo'Nique, one of America's best-loved plus-size personalities. "I really wish I didn't have to write this book," writes Mo'Nique. "But it appears I have no choice. Especially when BIG girls are still subjected to ridicule simply because we've been blessed with a few extra pounds." In Skinny Women Are Evil, Mo'Nique strips away the stigma of being weight-challenged and introduces a new vocabulary in which F.A.T. is FABULOUS AND THICK and a woman who is "skinny" is just plain evil. Why? Because America gives them the comfortable airline seats, the fashionable clothes, and the lead roles in the Hollywood blockbusters. So how can a F.A.T. girl learn to operate in the it's-a-small-world after all? In this hilarious, heartwarming book, women of all sizes, shapes, and colors can benefit from Mo'Nique's Fat Girls' Survival Tips, a handy Thin-O-Meter, and a generous portion of advice about dating, eating, dressing, undressing, and much more. Skinny Women Are Evil is Mo'Nique's testament to living large and loving it. So go on, dig in.
About the Author
Mo'Nique's portrayal of Nikki Parker on The Parkers has won her two NAACP Image Awards for Best Actress in a Comedy Series. Also a host of Showtime at the Apollo, she lives in Los Angeles with her son and husband.
Praise For Skinny Women Are Evil: Notes of a Big Girl in a Small-Minded World…
Honey Magazine

Hilarious...generates big laughs.
or
Not Currently Available for Direct Purchase