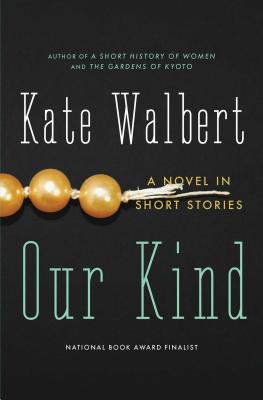 Our Kind
A Novel in Stories
Paperback

* Individual store prices may vary.
Description
From the award-winning author of The Gardens of Kyoto comes this witty and incisive novel about the lives and attitudes of a group of women—once country-club housewives; today divorced, independent, and breaking the rules.

In Our Kind, Kate Walbert masterfully conveys the dreams and reality of a group of women who came into the quick rush of adulthood, marriage, and child-bearing during the 1950s. Narrating from the heart of ten companions, Walbert subtly depicts all the anger, disappointment, vulnerability, and pride of her characters: "Years ago we were led down the primrose lane, then abandoned somewhere near the carp pond."

Now alone, with their own daughters grown, they are finally free—and ready to take charge: from staging an intervention for the town deity to protesting the slaughter of the country club's fairway geese, to dialing former lovers in the dead of night.

Walbert's writing is quick-witted and wry, just like her characters, but also, in its cumulative effect, moving and sad. Our Kind is a brilliant, thought-provoking novel that opens a window into the world of a generation and class of women caught in a cultural limbo.
Praise For Our Kind: A Novel in Stories…
Katharine Weber author of The Music Lesson and The Little Women Kate Walbert's dazzling novel has the elegiac grace and wisdom-and also the wistfulness-of a John Cheever story. The collective narrative voice gives the novel a breathtaking authority. The tragedy of these empty, prosperous lives could make this a cruel farce were it not so delicately and deliciously rendered into something far finer. What a marvelous book.

Tom Perrotta author of Election and Little Children Our Kind is a brave and beautiful book about love, friendship, and regret. In this remarkable novel, Kate Walbert, one of our finest writers, has given us a slyly comic, quietly shocking, deeply moving group portrait of a vanishing breed of American women.

Laura Miller The New York Times Book Review [E]xquisite. [T]his gang is the most inviting. They are good company: funny, tough, loyal, tolerant, jaunty even in their cups. Convinced that life has passed them by, they fail to notice the gift it slipped them on the sly, an ability to be part of their "kind" even as each remains utterly herself.

Jennifer Egan The New York Times Book Review [W]ry and compressed, full of quick, telling details....I can't think of another contemporary novel except James Salter's Light Years that so zealously grapples with the passage of time as a subject....[S]tartling and cumulative [in its] heft.

Chicago Tribune A collective portrait emerges from selective moments -- some sharp and painful, others tender and questing. These '50s women defy stereotype even as they evoke all the details.

Salon Her "novel in stories" twines together select tales from the lives of a group of older women in gorgeous but taut lyrical prose. While Woolfian in spirit, the book's sharp, canny social observations are rather more Austenian.

Newsday There's no denying Walbert's talent -- or her ambition.

Washington Post Our Kind is the book you read along with Updike and Cheever...touching and often surreal. Walbert writes...with insight and compassion.

The Boston Globe Beautiful, heartbreaking...[The characters] are free and unfettered.

Village Voice [T]he 1950s women of Walbert's "novel in stories," Our Kind, are a dying breed; but she insists, rightly, on the viability of their ambition-nipped lives.
Scribner, 9780743245609, 208pp.
Publication Date: December 28, 2004
About the Author
Kate Walbert is the author of six previous books of fiction: His Favorites; The Sunken Cathedral; A Short History of Women, a New York Times Book Review 10 Best Books of the Year and finalist for the Los Angeles Times Book Prize; Our Kind, a National Book Award finalist; The Gardens of Kyoto; and the story collection Where She Went. Her work has appeared in The New Yorker, The Paris Review, The Best American Short Stories, and The O. Henry Prize stories. She lives with her family in New York City.
or
Not Currently Available for Direct Purchase