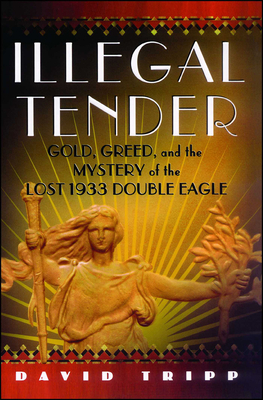 Illegal Tender
Gold, Greed, and the Mystery of the Lost 1933 Double Eagle
Hardcover

* Individual store prices may vary.
Other Editions of This Title:
Paperback (11/2/2013)
Description
It is one of America's treasures -- the most valuable ounce of gold in the world, the celebrated, the fabled, the infamous 1933 double eagle. It shouldn't even exist but it does, and its astonishing, true adventures read like "a composite of The Lord of the Rings and The Maltese Falcon" (The New York Times). Illegal to own and coveted all the more, it has been sought with passion by men of wealth and with steely persistence by the United States government for more than a half century.
In 1905, at the height of the exuberant Gilded Age, President Theodore Roosevelt commissioned America's greatest sculptor, Augustus Saint- Gaudens -- as he battled in vain for his life -- to create what became America's most beautiful coin. In 1933 the hopes of America dimmed in the darkness of the Great Depression, and gold -- the nation's lifeblood -- hemorrhaged from the financial system. As the economy teetered on the brink of total collapse, Franklin Delano Roosevelt, in his first act as president, assumed wartime powers while the nation was at peace and in a "swift, staccato action" unprecedented in United States history recalled all gold and banned its private ownership.
But the United States Mint continued, quite legally, to strike nearly a half million 1933 double eagles that were never issued and were deemed illegal to own. In 1937, along with countless millions of other gold coins, they were melted down into faceless gold bars and sent to Fort Knox. The government thought they had destroyed them all -- but they were wrong.
A few escaped, purloined in a crime -- an inside job -- that wasn't discovered until 1944. Then, the fugitive 1933 double eagles became the focus of a relentless Secret Service investigation spearheaded by the man who had put away Al Capone. All the coins that could be found were seized and destroyed. But one was beyond their reach, in a king's collection in Egypt, where it survived a world war, a revolution, and a coup, only to be lost again.
In 1996, more than forty years later, in a dramatic sting operation set up by a Secret Service informant at the Waldorf-Astoria, an English and an American coin dealer were arrested with a 1933 double eagle which, after years of litigation, was sold in July 2002 to an anonymous buyer for more than $7.5 million in a record-shattering auction. But was it the only one? The lost one?
Illegal Tender, revealing information available for the first time, tells a riveting tale of American history, liberally spiced with greed, intrigue, deception, and controversy as it follows the once secret odyssey of this fabulous golden object through the decades. With its cast of kings, presidents, government agents, shadowy dealers, and crooks, Illegal Tender will keep readers guessing about this incomparable disk of gold -- the coin that shouldn't be and almost wasn't -- until the very end.
Praise For Illegal Tender: Gold, Greed, and the Mystery of the Lost 1933 Double Eagle…
"Illegal Tender is an excellent read -- the first book I've ever read where the protagonist is a coin, the 1933 double eagle. It's a first-rate adventure story, and I was instantly hooked. Anyone who as a kid dug for treasure in his backyard will love this book. It made me want to get my metal detector out of the closet and go on a quest of my own."
— Ben Mezrich, author of the New York Times bestseller Bringing Down the House

"A solid-gold spellbinder. David Tripp's Illegal Tender has all the elements of a classic thriller -- foreign intrigue with Egyptian royalty and American presidents, a government sting, a rare object with a multimillion-dollar price tag -- and most amazing of all, the story he so deftly weaves together is all true."
— Linda Fairstein, author of the New York Times bestseller The Kills

"Dazzling history....Tripp compellingly unravels the mystery behind the rarest of rare coins. Entertaining and illuminating!"
— Neal Bascomb, author of The Perfect Mile and Higher

"I was dazzled and mesmerized by this wonderful, exciting story. The oddballs and villains who populate the world of numismatics -- King Farouk most notably among them--are matched only for interest by the thin-lipped zealots who, for decades, have tried to track down the missing gold coins that lie at the heart of this extraordinary tale. David Tripp has added vaults-full of absorbing details, and in living color, to the ancient notion that the love of money -- or coin -- is the root of all evil."
— Simon Winchester author of Krakatoa and The Professor and the Madman

"The definitive history"
— The New York Times

"Meticulous research adds a stamp of authenticity to what unspools like a Hollywood Blockbuster."
— Entertainment Weekly

"Exciting reading....A true-life thriller."
— Kirkus Reviews

"Tripp's entertaining narrative is made more so by the many dramatic, sometimes nefarious characters of the coin trade, whom he paints in all their seediness. But covetous human nature—which always makes for an interesting read—stands center stage."
— Publishers Weekly

"Exhaustively researched...This engaging record of an important numismatic saga has the suspense of a whodunit."
— Library Journal

"More like an Agatha Christie mystery than a history book…
an enthralling, convincing and, best of all, page turning account"
— ANS Magazine

"The book delivers. It reads like a historical thriller… Informative and provocative."
— Numismatist
Atria Books, 9780743245746, 384pp.
Publication Date: September 9, 2004
About the Author
David Tripp is a numismatic and fine art consultant, writer, and cartoonist. He has degrees in classical archaeology, was an actor, photographer, and formerly the director of Sotheby's coin, tapestry, and musical instrument departments. He is married and lives in Columbia County, New York.
or
Not Currently Available for Direct Purchase