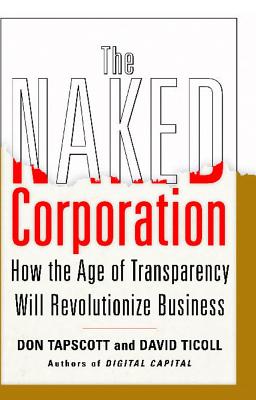 The Naked Corporation (Paperback)
How the Age of Transparency Will Revolutionize Business
Free Press, 9780743246514, 368pp.
Publication Date: November 17, 2012
* Individual store prices may vary.
Description
If you have to be naked, you had better be buff. We are entering an extraordinary age of transparency, where businesses must for the first time make themselves clearly visible to shareholders, customers, employees, partners, and society. Financial data, employee grievances, internal memos, environmental disasters, product weaknesses, international protests, scandals and policies, good news and bad; all can be seen by anyone who knows where to look. Welcome to the world of the naked corporation. Transparency is revolutionizing every aspect of our economy and its industries and forcing firms to rethink their fundamental values.
Don Tapscott, bestselling author and one of the most sought after strategists and speakers in the business world, is famous for seeing into the future and pointing out both its forest and its trees. David Ticoll, visionary researcher, columnist, and consultant, has identified countless breakthrough trends at the intersection of technology and business strategy. These two longtime collaborators now offer a brilliant guide to the new age of openness. In "The Naked Corporation, " they explain how the new transparency has caused a power shift toward customers, employees, shareholders, and other stakeholders; how and where information has exploded; and how corporations across many industries have seized on transparency not as a challenge but as an opportunity.
Drawing on such examples as Chiquita's total turnaround on matters of ethics, to Shell Oil's reinvention of itself as an environmentally focused business, to Johnson & Johnson's longstanding and carefully nurtured reputation as a company worthy of trust -- as well as little-known examples from pharmaceuticals, insurance, high technology, and financial services -- Tapscott and Ticoll offer invaluable advice on how to lead the new age, rather than simply react to it.
"The Naked Corporation" is a book for managers, employees, investors, customers, and anyone who cares about the future of the corporation and society. A new age is upon us, and you can either work with it and thrive, or fight it and die.
Praise For The Naked Corporation: How the Age of Transparency Will Revolutionize Business…
Malcolm Gladwell Author of The Tipping Point The Naked Corporation argues, beautifully and persuasively, that there is no contradiction between good business and the values of honesty and openness. This book belongs in the briefcase of every right-thinking manager in the country.



A. G. Lafley Chairman, President and Chief Executive, Procter & Gamble Don Tapscott and David Ticoll hit the bull's-eye with The Naked Corporation. The demand for openness and candor has never been greater. The Naked Corporation is a leadership tool kit for turning the relentless demand for transparency from threat to advantage.



Robert A. G. Monks Author of The New Global Investors, coauthor of Power and Accountability and Watching the Watchers Tapscott and Ticoll show, with abundant recent cogent examples, how concealment of truth is at the core of many corporate problems. Their solution is straightforward, clearly written, and compelling. You should read this book. More, you should buy it, as you will want to refer to it frequently.



Dr. Eric Schmidt Chairman and CEO, Google, Inc. They've done it again. Tapscott and Ticoll's capacity to combine a fresh and authentic perspective with real world data has once again opened the aperture on our emerging networked economy. A brilliant work.



Klaus Schwab Founder and President, World Economic Forum We need a corporate philosophy for the twenty-first century. Tapscott and Ticoll's book The Naked Corporation provides this -- not only the rationale for a transparent corporation but also the principles of leadership in an open world.