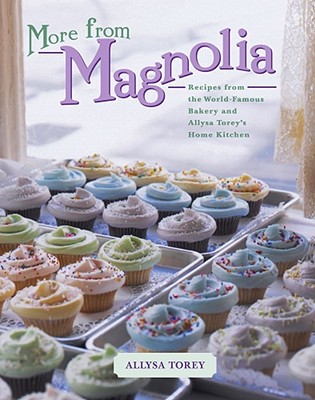 More From Magnolia
More From Magnolia
Hardcover

* Individual store prices may vary.
Description
A cupcake can change your life. Ever since Magnolia Bakery opened its doors in 1996, people have been lining up day and night to satisfy their sugar cravings—patiently waiting in line at the old-fashioned yet funky bake shop to buy cupcakes, layer cakes, pudding, and ice cream, much to the surprise and delight of owner Allysa Torey. Now, from the baker who brought cupcakes to everyone's attention, come even more recipes from Greenwich Village's favorite bakery and her home kitchen.

Whether it's a birthday cake, weekend breakfast treats, or sweets for a bake sale, you'll find simple and delicious recipes to delight family and friends on all occasions in More from Magnolia: Recipes from the World-Famous Bakery and Allysa Torey's Home Kitchen. Beginning with the ever-popular cupcakes and frostings, you'll find the much-requested recipes for the mouthwatering Magnolia's Famous Banana Pudding and sinfully rich Red Velvet Cake with Creamy Vanilla Frosting, all with helpful hints that let you achieve the same sweet results as the bakery. In the well-loved Magnolia style, Allysa Torey brings you new twists on old favorites, such as Devil's Food Cupcakes with Caramel Frosting, Peaches and Cream Pie with Sugar Cookie Crust, and Apple Tart with Hazelnut Brown Sugar Topping. You'll also find breakfast treats like Cream Cheese Crumb Buns and Blueberry Coffee Cake with Vanilla Glaze; and afternoon snacks like Black Bottom Cupcakes, Walnut Brown Sugar Squares, and Oatmeal Peanut Butter Chip Cookies. From Banana Cake with White Chocolate Cream Cheese Icing to Heavenly Hash Ice Cream Pie, these are the desserts that Allysa makes for friends and family at home—unfussy, straightforward, and simply delicious.

Illustrated with eight pages of beautiful color photographs, as well as black-and-white stills that capture the daily life of the bakery, More from Magnolia is an irresistible collection of new classics that will inspire you to fill your kitchen with sweet things.
Simon & Schuster, 9780743246613, 160pp.
Publication Date: October 4, 2004
About the Author
Allysa Torey grew up in a hotel in the Catskills, where she started singing at an early age and developed her love of horses and the outdoors. She spent much of her childhood baking and cooking for her family. Her life-long passion for the slower, pre-high-tech age of the post-World War II era led her to form and front the Alyssa Torey Swing Band, as well as the now world-famous Magnolia Bakery on the corner of Bleecker and 11th in Greenwich Village. She divides her time between her white farmhouse in Sullivan County and New York City. She does not own a computer.