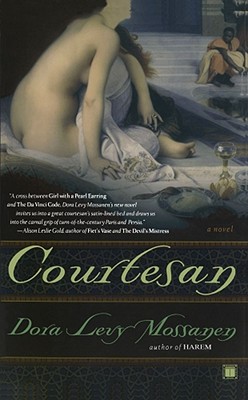 Courtesan
A Novel
Paperback

* Individual store prices may vary.
Description
Set amid the elegant châteaux of Belle époque France and the closely guarded world of nineteenth-century Persian women, Courtesan unfolds with the breathtaking cinematic sweep and stunning visual grandeur of an epic film. At its heart are three unforgettable women: Madame Gabrielle, the courtesan whose fateful liaison with the shah of Persia reverberates in the lives of her daughter, Françoise, and her rebellious and brave granddaughter, Simone, whose journey plunges her into the cutthroat diamond trade, where the secrets of an ancient culture may hold the truth she desperately seeks.
Praise For Courtesan: A Novel…
"A cross between Girl with a Pearl Earring and The Da Vinci Code, Dora Levy Mossanen's new novel invites us into a great courtesan's satin-lined bed and draws us into the carnal grip of turn-of-the-century Paris and Persia."
-- Alison Leslie Gold, author of Fiet's Vase and The Devil's Mistress

"...an exhilarating epic that roams from Persia to Paris to South Africa, carrying the reader along on a wave of intrigue, murder, and romance."
-- John Rechy, author of City of Night

"From the first page of Courtesan, I felt as if I had stepped into a mirage. The dream landscape Mossanen builds, one stunning image at a time, cements her place as a magic realist with a decidedly erotic twist."
-- M. J. Rose, author of The Halo Effect

"Dora Levy Mossanen masters the fine-tuned powers of language. She has the rare talent to transform the 'lust-vein' of our imagination into a panoply of lyrical imagery, at once visual and sensual. Her characters live out loud in the best tradition of a Zola-styled narrative."
-- James Ragan, poet and author of Lusions

"A sweeping romance with intrigues in both fin de siècle Paris and repressive Persia, Mossanen's engrossing second novel (after Harem) follows the sentimental education of a young seductress. Though Simone knows from a young age that she's too romantic to follow her courtesan mother, Françoise, into the family business, her grandmother, famed Parisian madam Gabrielle (née Ester Abramowicz), isn't so convinced. A really handsome man, she figures, can seduce Simone, and thus initiate her into the habits of wealthy courtesans. Gabrielle sets upon Cyrus, a handsome Persian jeweler, and Simone is intrigued by the man who supplies only the rarest diamonds to the shah's court ("Was the origin of red diamonds the blood of mistreated diggers, the blazing eyes of dragons guarding illicit mines, or the tears of children forced into hard labor?" she wonders). She succumbs to his charms -- but then they fall in love. Simone moves with her new husband to the rugged mountains of Persia to make a quiet life living as Jews in a Muslim country, but her happiness is short-lived. Abrupt shifts between times and locations confuse, but the engaging plot wins out. And while the sex scenes are a bit overcooked (Simone "directed the creamy gaze of her breasts" at a suitor), readers will find themselves gripped by spirited Simone's many adventures."
-- Publisher's Weekly
Atria Books, 9780743246781, 304pp.
Publication Date: July 5, 2005
About the Author
Dora Levy Mossanen was born in Israel and moved to Iran when she was nine. At the onset of the Islamic revolution, she and her family fled to the United States. The recipient of the San Diego State University Editor's Choice award and the author of Harem, a widely acclaimed novel translated into numerous languages, Dora Levy Mossanen lives in Beverly Hills, California. She can be reached at DoraLevyMossanen.com.