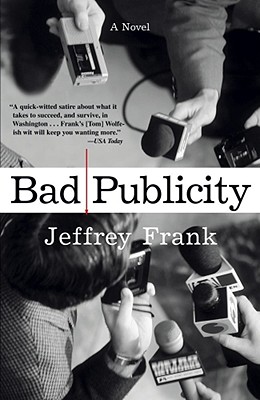 Bad Publicity
Paperback

* Individual store prices may vary.
Description
In the twilight of the Reagan era, as prospects appear brighter than ever for a Democratic restoration, the lawyers, lobbyists, advisers and socialites of Washington are looking ahead -- but over their shoulders, too. With good reason.
Charlie Dingleman, a former congressman, has gotten a tantalizing job offer that could rescue him from the drudgery of lawyering. But he's being shadowed by an increasingly unsavory rumor started by Judith Grust, a young associate at Charlie's firm. Judith has a few dark secrets of her own, like one she shares with Hank Morriday, a lazy, shiftless welfare policy expert. That helps to drive Hank into the orbit of Candy Romulade, a P.R. executive paralyzed by a dwindling client list. Then Candy signs up a veteran local anchorman, who has a very peculiar view of the world.
As these men and women collide in a lusty, mad scramble, their savage ambitions and reversals of fortune test the idea that there's no such thing as bad publicity. The result, Bad Publicity, is a pitch-perfect, often poignant novel in the classic Swiftian mold.
Praise For Bad Publicity…
"A quick-witted satire about what it takes to succeed, and survive, in Washington...Frank's [Tom] Wolfe-ish wit will keep you wanting more."

-- USA Today




"Frank has painted an entertaining and very knowing portrait of Washington."

-- The New York Times




"Frank's prose is spare and vivid, with scarcely a wasted syllable; every sentence has a pop to it."

-- The Washington Post




"Frank's prose is as clear and cold as a well-iced martini, and lets the characters skewer themselves....The satire slyly exposes a Beltway world of has-beens and never-wases, where hopefuls scrabble for attention at cocktail parties and an unreturned phone call is a death knell."

-- The New Yorker


Simon & Schuster, 9780743247801, 224pp.
Publication Date: March 7, 2005