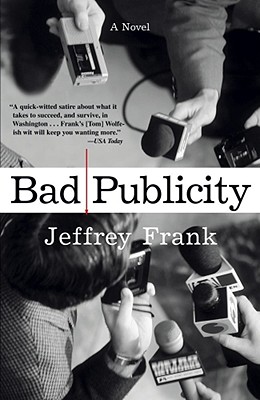 Bad Publicity
A Novel
Paperback

* Individual store prices may vary.
Description
In the twilight of the Reagan era, as prospects appear brighter than ever for a Democratic restoration, the lawyers, lobbyists, advisers and socialites of Washington are looking ahead -- but over their shoulders, too. With good reason.
Charlie Dingleman, a former congressman, has gotten a tantalizing job offer that could rescue him from the drudgery of lawyering. But he's being shadowed by an increasingly unsavory rumor started by Judith Grust, a young associate at Charlie's firm. Judith has a few dark secrets of her own, like one she shares with Hank Morriday, a lazy, shiftless welfare policy expert. That helps to drive Hank into the orbit of Candy Romulade, a P.R. executive paralyzed by a dwindling client list. Then Candy signs up a veteran local anchorman, who has a very peculiar view of the world.
As these men and women collide in a lusty, mad scramble, their savage ambitions and reversals of fortune test the idea that there's no such thing as bad publicity. The result, Bad Publicity, is a pitch-perfect, often poignant novel in the classic Swiftian mold.
Praise For Bad Publicity: A Novel…
"A quick-witted satire about what it takes to succeed, and survive, in Washington...Frank's [Tom] Wolfe-ish wit will keep you wanting more."
-- USA Today

"Frank has painted an entertaining and very knowing portrait of Washington."
-- The New York Times

"Frank's prose is spare and vivid, with scarcely a wasted syllable; every sentence has a pop to it."
-- The Washington Post

"Frank's prose is as clear and cold as a well-iced martini, and lets the characters skewer themselves....The satire slyly exposes a Beltway world of has-beens and never-wases, where hopefuls scrabble for attention at cocktail parties and an unreturned phone call is a death knell."
-- The New Yorker
Simon & Schuster, 9780743247801, 224pp.
Publication Date: March 7, 2005
About the Author
Jeffrey Frank was a senior editor at The New Yorker, the deputy editor of The Washington Post's Outlook section, and is the author of Ike and Dick. He has published four novels, among them the Washington Trilogy—The Columnist, Bad Publicity, and Trudy Hopedale—and is the coauthor, with Diana Crone Frank, of a new translation of Hans Christian Andersen stories, which won the 2014 Hans Christian Andersen Prize. He is a contributor to The New Yorker, and has written for The New York Times, The Washington Post, The Wall Street Journal, The Guardian, Bookforum, and Vogue, among other publications.