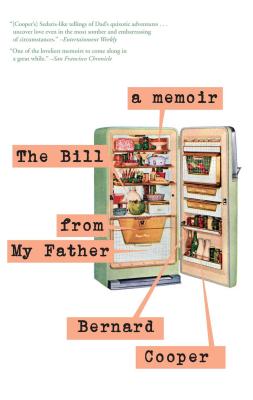 The Bill from My Father (Paperback)
A Memoir
Simon & Schuster, 9780743249638, 240pp.
Publication Date: January 9, 2007
* Individual store prices may vary.
Description
Edward Cooper is a hard man to know.Dour and exuberant by turns, his moods dictate the always uncertain climate of the Cooper household. Balding, octogenarian, and partial to a polyester jumpsuit, Edward Cooper makes an unlikely literary muse. But to his son he looms larger than life, an overwhelming and baffling presence. Edward's ambivalent regard for his son is the springboard from which this deeply intelligent memoir takes flight. By the time the author receives his inheritance (which includes a message his father taped to the underside of a safe deposit box), and sees the surprising epitaph inscribed on his father's headstone, The Bill from My Father has become a penetrating meditation on both monetary and emotional indebtedness, and on the mysterious nature of memory and love.
Praise For The Bill from My Father: A Memoir…
"Bernard Cooper's The Bill From My Father is a glorious cornucopia of love and pain. Not only is Cooper an exemplary writer but he can parse an emotion down to its most resonant note. This memoir amazes."
-- Alice Sebold



"A masterful, compelling, and supremely entertaining portait. Some books are easily forgotten, but not this one. I will never be able to look at a coat of arms, a sheet of onionskin, or a cemetary again without feeling the need to tell someone about Edward Cooper."
-- Mark Salzman