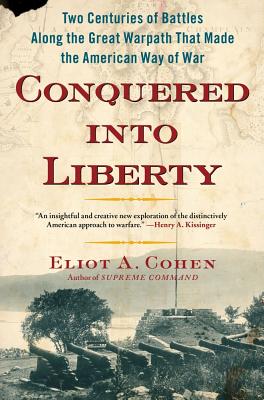 Conquered into Liberty
Two Centuries of Battles along the Great Warpath that Made the American Way of War
Hardcover

* Individual store prices may vary.
Other Editions of This Title:
Paperback (11/13/2012)
Description
Americans often think of the Civil War as the conflict that consolidated the United States, including its military values and practices. But there was another, earlier, and more protracted struggle between "North" and "South," beginning in the 1600s and lasting for more than two centuries, that shaped American geopolitics and military culture. Here, Eliot A. Cohen explains how the American way of war emerged from a lengthy struggle with an unlikely enemy: Canada.

In Conquered into Liberty, Cohen describes how five peoples—the British, French, Americans, Canadians, and Indians—fought over the key to the North American continent: the corridor running from Albany to Montreal dominated by the Champlain valley and known to Native Americans as the "Great Warpath." He reveals how conflict along these two hundred miles of lake, river, and woodland shaped the country's military values, practices, and institutions.

Through a vivid narration of a series of fights— woodland skirmishes and massacres, bloody frontal assaults and fleet actions, rear-guard battles and shadowy covert actions—Cohen explores how a distinctively American approach to war developed along the Great Warpath. He weaves together tactics and strategy, battle narratives, and statecraft, introducing readers to such fascinating but little-known figures as Justus Sherwood, loyalist spy; Jeduthan Baldwin, self-taught engineer; and La Corne St. Luc, ruthless partisan leader. And he reintroduces characters we thought we knew—an admirable Benedict Arnold, a traitorous Ethan Allen, and a devious George Washington. A gripping read grounded in serious scholarship, Conquered into Liberty will enchant and inform readers for decades to come.
Praise For Conquered into Liberty: Two Centuries of Battles along the Great Warpath that Made the American Way of War…
"Conquered Into Liberty is beautiful narrative history: The author is a poetic and evocative storyteller. But the book is also valuable for the lessons it imparts and the heritage it conveys. The experience along the Great Warpath has seeped into the American character and helped prepare subsequent warriors to appreciate Washington's famous declaration: 'If you wish for peace, prepare for war.' The Great Warpath's legacy helps our soldiers know that one of the obligations of citizenship is to understand the character of war." –Josiah Bunting, The Washington Post

"Mr. Cohen has thus produced the opposite of a dry-as-dust academic tome, and it is full of surprises. . . . As "Conquered Into Liberty" memorably shows, one territory of the country knew little peace for more than a century." —Wall Street Journal

"A brilliant history of our least-known wars on our most-ignored frontier -- our northern border with Canada."
–Doyle McManus

"A delightful-to-read piece of American history."
—Kirkus Reviews


"Cohen, among America's leading defense analysts and military historians combines his skills in this comprehensively researched, well-written analysis of the international conflict that more than any other shaped the U.S. way of war. . . . Even issues of contemporary concern, the problems of conventional forces facing irregular opponents and the belief that an adversary can be 'conquered into liberty,' were first confronted in these battles, as Cohen demonstrates in this original and illuminating study."
—Publishers Weekly


"There has been no dearth of books that have analyzed America's wars, primarily from a military and political viewpoint. Yet Eliot Cohen has mined an unexplored third vein of influence, stemming from its pre-colonial and frontier past, which still echo today. Conquered Into Liberty is an insightful and creative new exploration of the distinctively American approach to warfare."
—Henry A. Kissinger

"Eliot Cohen's Conquered into Liberty provides an illuminating account of America's early struggles in the northeast border region from one of our nation's foremost experts on military affairs. Insightful and penetrating in its analysis, this is not just a remarkable work of history; it traces the roots of the institutions and culture that continue to shape America's armed forces in our own time."
—Condoleezza Rice, Professor of Political Economy, Stanford University and Sixty-Sixth Secretary of State of the United States

"Eliot Cohen has written a brilliant account of a little known, but important, period in our country's history. It is a riveting work that masterfully describes how pre-Revolutionary War events shaped our nation's approach to war. It is a must read for all Americans."
—General Anthony C. Zinni USMC (Ret.)

"Conquered into Liberty is a powerful and ingenious history--a story of prolonged, tribal war set within ideological conflict and superpower competition; of intense battles of regulars, militias, indigenous forces, and proxies including savage terror, kidnapping, and worse; and of coalition operations where strategic aims often did not match resources allocated and actual war requirements were not understood in distant capitals. Cohen's account at once explains an important period of American history and puts today's wars in proper context."
—LTG (Retired) Jim Dubik, Senior Fellow, the Institute for the Study of War and former Commanding General of Multi-National Security and Transition Command and NATO Training Mission, Iraq 2007-2008

"Eliot Cohen is the David McCullough of the American frontier. He has written a fascinating history of heroes, rogues and rugged individualists who almost united Canada and America. Cohen captivates the reader by recounting the battles and dissecting the 'what if's?' of history that determined the courses both of America and Canada. A rich, page-turning tale of war and survival, of ambition and empire, of men who sought adventure and refused defeat."
—Bing West, bestselling author of The Village, The Strongest Tribe and The Wrong War

"Master strategist Eliot Cohen analyzes nearly three centuries of conflict, recounting battles both familiar (Ticonderoga, Fort William Henry) and perhaps obscure (Schenectady, St. Johns, Hubbardton). His account, at once both sweeping and fresh, offers strategic 'lessons learned' over three centuries on the Great Warpath that coalesced into the American way of war and peace."
—Nicholas Westbrook, Director Emeritus, Fort Ticonderoga

"This fascinating book reminds us of the long history of antagonism in North America and how it could so easily have been different. The values, self belief and dynamism of the United States have been shaped by this story, so often one of war. Eliot Cohen is exceptionally well qualified to make clear the relevance for today."
—Sir John Scarlett, Chief MI6 2004-2009

"Conquered Into Liberty provides an innovative approach to the telling of military history that helps the reader better understand the present. [The book] has a valued place in the library of anyone who wishes to understand the development of the United States and its approach to war."
– New York Journal of Books

Conquered into Liberty is a labor of love. Yet Cohen brings to this project far more than a history buff's enthusiasm. He has spent lifetime writing about military affairs, and the results of his research and reflection are evident on every page of a narrative that does not hesitate to invoke modern comparisons to put the struggles of the past into perspective. [Conquered into Liberty] will serve to acquaint a new generation with some of the lesser-known battles that did so much to shape the early Republic." —Max Boot, Commentary Magazine


"A fine, thoughtful treatment of a period of American history that rarely receives much attention."—Seattle Times


"Impressive. . . Conquered into Liberty excels in its demonstration of the ways in which important components of the American military tradition emerged. . . The stories that Cohen recounts are valuable not only instrumentally—as keys to the origins of the American way of war—but also intrinsically. Simply put, the book contains much interesting . . . history that is likely to be unfamiliar to most readers. . . Conquered into Liberty deserves a wide readership that should certainly include anyone interested in American history or military history." —The Weekly Standard

"Broad in scope and gripping in its narrative, Conquered into Liberty is as informative as it is captivating." —ARMY Magazine

"A fine, thoughtful treatment of a period of American history that rarely receives much attention."—Seattle Times

"Engaging...fast-moving prose—this book is a page-turner especially when it describes battles…Cohen fills the mind's eye with vivid landscape." —Walter Nugent, Parameters

"Conquered into Liberty is a good read for anyone interested in a fresh perspective on the particular wars it covers and the development of the American military tradition." —Strategy Page
Free Press, 9780743249904, 432pp.
Publication Date: November 15, 2011
About the Author
Eliot A. Cohen is Robert E. Osgood Professor of Strategic Studies at the Paul H. Nitze School of Advanced International Studies (SAIS) of the Johns Hopkins University and founding director of the Philip Merrill Center for Strategic Studies. From 2007 to 2009 he was Counselor of the Department of State, serving as Secretary Condoleezza Rice's senior advisor on strategic issues.
or
Not Currently Available for Direct Purchase