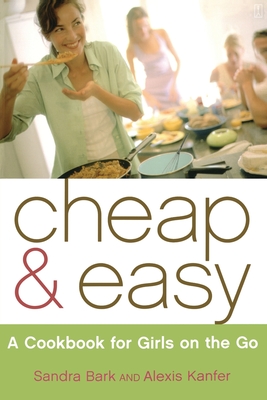 Cheap & Easy (Paperback)
A Cookbook for Girls on the Go
Atria Books, 9780743250542, 176pp.
Publication Date: April 6, 2004
* Individual store prices may vary.
Description
A gourmet-inspired cookbook for making meals on the cheap and easy
Girl, meet spatula.

With simple recipes for quick-fix meals and practical tips for stocking your freezer and pantry so that you always have what you need on hand, Cheap & Easy is an inspiration for those who are stymied by their tight kitchens and even tighter budgets.
Sandra Bark and Alexis Kanfer created the dishes in Cheap & Easy as an escape from too much takeout. Their recipes deliver maximum flavor with minimal work and include:

• The Independent Pancake: bakes in the oven so you can hang out with your guests
• Fred and Ginger Pumpkin Soup: perfect for a weeknight
• Lazy Girl's Lasagna: a time-saving version of the classic
• Blenderella: the margarita grows up and goes to the ball
• Smart Cookie: one recipe, many flavors

From comfort food to elegant entrées, from wholesome salads to that first sweet bite, Bark and Kanfer cover breakfast, lunch, and dinner; brunch; cocktails; and brown-bag specials perfect for work and the beach. They include plenty of choices for vegetarians and carnivores alike, with "playing the field" sections so you can vary the recipes.
So delete the Chinese place from speed dial because whether you are preparing for a spur-of-the-moment dinner party, an evening with your sweetie, or a movie night for you and the dog, Cheap & Easy is the only cookbook you will ever need.
About the Author
Sandra Bark is the author of Cheap & Easy: A Cookbook for Girls on the Go and editor of Beautiful as the Moon, Radiant as the Stars: Jewish Women in Yiddish Stories and Writers Workshop in a Box. She lives in Brooklyn.
Praise For Cheap & Easy: A Cookbook for Girls on the Go…
Susan Jane Gilman author of Kiss My Tiara Behold. Funny, smart, no-brainer recipes for girls who want to bake their cake and eat it, too.

Michele Scicolone coauthor of the New York Times bestseller The Sopranos Family Cookbook Even girls who just wanna have fun have to eat sometimes! This is the book for them, and for the rest of us who need fresh ideas for quick, wholesome, and tasty food. Packed with clever tricks, practical shortcuts, and multiple variations, Cheap & Easy is a guide to fun in the kitchen.