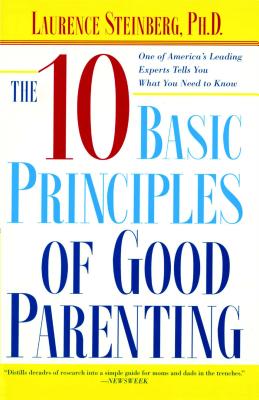 The Ten Basic Principles of Good Parenting
Paperback

* Individual store prices may vary.
Description
Most parents do a pretty good job of raising kids, says psychologist Laurence Steinberg, but truly effective parenting means not just relying on natural instincts but also on knowing what works and why. In The Ten Basic Principles of Good Parenting, Dr. Steinberg distills decades of research into a parenting book that explains the fundamentals of raising happy, healthy children, giving readers an invaluable map to help them navigate parenthood from infancy to adolescence.

Dr. Steinberg found that the basic principles for effective parenting are simple and universal, and apply to all parents and children regardless of background. He explains each principle and shows how to put it into action, using anecdotes and examples: from "What You Do Matters" (parents make an enormous difference; children are not simply the product of their genes) to "Establish Rules and Limits" (how to provide structure in your child's life, and how to handle conflicts over rules) and "Help Foster Your Child's Independence" (help your child think through decisions instead of making them for him or her). Concise and authoritative, written with warmth and compassion, The Ten Basic Principles of Good Parenting is an intelligent guide to raising a happy, healthy child and to becoming a happier, more confident parent in the process.
Praise For The Ten Basic Principles of Good Parenting…
"Distills decades of research into a simple guide for moms and dads in the trenches."
-- Newsweek

"[Steinberg] helps parents apply the science of child development to their relationships with their children. It is warm, insightful, and eminently practical."
-- Lawrence Kutner, Ph.D., Codirector, Harvard Medical School Center for Mental Health and Media

"Steinberg offers sage advice as well as pragmatic steps to follow, in the hopes that you can learn to become a more 'mindful' parent."
-- The Boston Globe
Simon & Schuster, 9780743251167, 224pp.
Publication Date: May 9, 2005
About the Author
Laurence Steinberg, Ph.D., is the Distinguished University Professor and Laura H. Carnell Professor of Psychology at Temple University. He is the author or coauthor of several books and his work has also appeared in many publications, including The New York Times and The Wall Street Journal. He lives in Philadelphia, Pennsylvania.