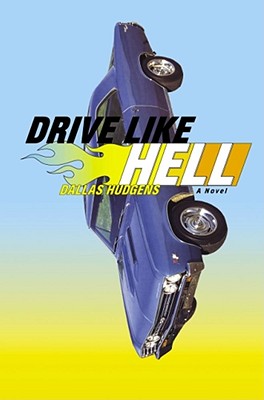 Drive Like Hell
A Novel
Hardcover

* Individual store prices may vary.
Other Editions of This Title:
Paperback (8/21/2007)
Description
Luke Fulmer belongs behind the wheel of a car. Taught to drive at the age of ten by his father, Luke can do more damage with a stick and a clutch than most men can do with a bottle of whiskey and a lousy mood. He counts down the days to his sixteenth birthday when he can finally get his license. Unfortunately, the first thing he does with it is "borrow" his neighbor's car.
When Luke is pulled over and found in possession of an air pistol, a ski mask, a stolen TV, and a bag of pot, the unforgiving local magistrate takes scissors to his license and vows to lock him up if he ever stands in front of her again. As Luke's mother explores bad relationships and the lure of vodka, Luke moves in with his older brother, Nick, an easygoing ex-con who wants to steer Luke onto the straight and narrow. In the gnarled, muggy summer that follows, Luke contends with a lovely kleptomaniac girlfriend, a duffel bag full of cocaine, and the realization that he must save his family from themselves even as he plots to beat a path out of town.
Dubbed the "Great American Redneck Novel" by Big Fish author Daniel Wallace, Drive Like Hell is a hilarious one-of-a-kind tale set in late '70s Georgia, complete with stock car racing, honky-tonk dancing, pro wrestling, drug dealing, and syndicated television. Dallas Hudgens brilliantly evokes Southern culture in this unforgettable debut that is raucous and wrenching, funny and wise.
Praise For Drive Like Hell: A Novel…
"Dallas Hudgens has done something I always thought was impossible: He's written the Great American Redneck Novel, a kind of bildungsroman of the urban South, complete with racing, wrestling, and lots and lots of drinking and smoking. In doing so, he has created a cast of characters so real to me I thought one of them was going to steal my car. This is a sharp, violent, hilarious, and endearing book. Like its narrator, the young Luke, it doesn't know how good it is."
-- Daniel Wallace, author of Big Fish

"The hard-driving, roughhouse, hell-for-leather energy of the prose; the tragedy and comedy of desperation; the keen sense of living on the razor's edge between hope and hopelessness; the fine pacing and humane treatment of these lives -- there is just so much to recommend this fine book and its brilliant author."
-- Lewis Nordan, author of Boy with Loaded Gun

"Drive Like Hell is, quite simply, the funniest book I've ever read -- equal parts Huck Finn, Jack Kerouac, and deep-fried mischief. Remarkably, though, woven through every moment of hilarity is a perfect rendering of time and place and the melancholy of hard-knocks living. I loved the book's men, women, and coming-of-age boy, rooted for them on every page. Dallas Hudgens is a wizard, and his novel is a joy."
-- Martin Clark, author of The Many Aspects of Mobile Home Living
Scribner, 9780743251631, 336pp.
Publication Date: February 8, 2005
About the Author
Dallas Hudgens is a native of Georgia. He is the author of the novel Drive Like Hell and has contributed to The Washington Post and online at FANZINE (www.thefanzine.com). He lives in Virginia with his wife and two sons. For more information, visit www.drivelikehell.com
or
Not Currently Available for Direct Purchase