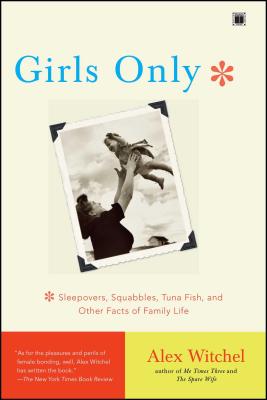 Girls Only
Sleepovers, Squabbles, Tuna Fish, and Other Facts of Family Life
Paperback

* Individual store prices may vary.
Description
What I learned from my father was the boys' lesson of dealing in the world -- trust no one and win the first time. What I learned from my mother was the girls' lesson -- trust no one and win the first time, but just in case you don't, come home, eat something, talk about it, have a drink, cry a little, then go back out there and try again. Armed with these family tenets, Alex Witchel goes soul-searching and shopping with the ever-present help of her mother, Barbara, the human Swiss Army knife who can do it all, and her sister, Phoebe, Alex's perpetual rival and best friend. These three form a family within a family, and with a passionate unity they offer each other sharp, witty, and (occasionally exasperating) insights on everything from men, pedicures, and careers to sibling rivalry, the challenges of stepparenting, and the pains of aging and loss. Insightful, poignant, and hilarious by turns, Girls Only is a memoir that celebrates the one thing that remains for women only...mother/daughter/sister love.
Praise For Girls Only: Sleepovers, Squabbles, Tuna Fish, and Other Facts of Family Life…
"As for the pleasures and perils of female bonding, well, Alex Witchel has written the book." - The New York Times Book Review



"A glorious celebration of mom." -- The Boston Globe



"A gifted writer.... Witchel has an ability to write about mothers, daughters, and sisters in a way that evokes a sense of connection." -- USA Today



"A blast to read." -- Pittsburgh Post-Gazette



"Wickedly funny and poignant...An utter delight, Girls Only is tea at the Stanhope in the raucous, irreverent, and ultimately delicious company of those who know you best and love you most." -- BookPage



"In Girls Only, Alex Witchel's beat is her own family. What a good reporter she is! Her book is sweet and tough-minded, funny and serious." -- Susan Isaacs



"Wickedly observant...Ms. Witchel is sardonic, mournful, and hilarious, sometimes all at once...In an era of mom-bashing, it's refreshing to read about a passionate mother-lover." -- The New York Times



"My mother will wish Alex Witchel was her daughter. This loving, witty, and wise book is a tribute to life with Mother. It's not for girls only, it's for anyone who loves his or her family." -- Wendy Wasserstein
Touchstone Books, 9780743254922, 193pp.
Publication Date: January 8, 2008
or
Not Currently Available for Direct Purchase