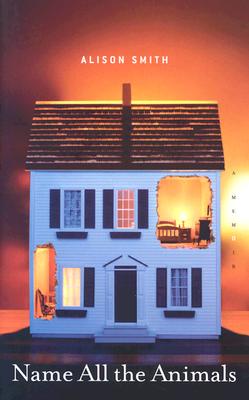 Name All the Animals (Hardcover)
A Memoir
Scribner Book Company, 9780743255226, 319pp.
Publication Date: January 1, 2004
* Individual store prices may vary.
Description
A luminous, poignant true story, Alison Smith's stunning first book, "Name All the Animals," is an unparalleled account of grief and secret love: the tale of a family clinging to the memory of a lost child, and a young woman struggling to define herself in the wake of his loss.
As children, siblings Alison and Roy Smith were so close that their mother called them by one name: Alroy. But on a cool summer morning when Alison was fifteen, she woke to learn that Roy, eighteen, was dead. This is Smith's extraordinary account of the impact of that loss -- on herself, on her parents, and on a deeply religious community.
At home, Alison and her parents sleepwalk in shifts. Alison hoards food for her lost brother, hides in the backyard fort they built together, and waits for him to return. During the day, she breaks every rule at Our Lady of Mercy School for Girls, where the baffled but loving nuns offer prayer, Shakespeare, and a job running the switchboard. In the end, Alison finds her own way to survive: a startling and taboo first love that helps her discover a world beyond the death of her brother.
An intimate book written in clear-eyed prose, "Name All the Animals" announces a brilliant new writer with a keen insight into the emotional life of the American family, the power of sibling love and loyalty, and the excruciating joy of first, forbidden love. Smith tells the story through her own fifteen-year-old eyes, with such expert pacing and narrative suspense that readers will find the book hard to put down.
Heartbreaking but hopeful, this is ultimately a book less about loss than it is about love -- about the excitement and anguish of Alison's first love, about her parents'enduring romance, about a community's passion for its faith, and about a well-loved boy who dies too young. A fiercely beautiful, redemptive book, it is sure to be a classic.
or
Not Currently Available for Direct Purchase