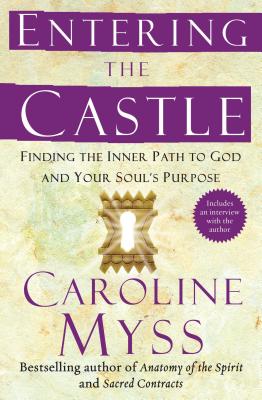 Entering the Castle
Finding the Inner Path to God and Your Soul's Purpose
Paperback

* Individual store prices may vary.
Other Editions of This Title:
CD-Audio (3/6/2007)
Description
Internationally renowned motivational teacher and popular theologian Caroline Myss has created a transcendent work of unique insight and revelation in Entering the Castle. A highly original inner path to self-knowledge, the Castle is also the road to spiritual knowledge of God and your own soul. In fact the soul is your spiritual castle and doing interior soul work helps you find your path in the world.

Teresa of Ávila's vision of the soul as a beautiful crystal castle with many mansions, and many rooms within those mansions, is the template for this modern spiritual journey on which you meet different aspects of your self and spirit and prepare for the ultimate encounter with God and your own divinity. Seven stages of intense practices and methods of spiritual inquiry develop your personal powers of prayer, contemplation, and intuition, which in turn reinforce your interior castle and build a soul of strength and stamina.With stories and inspiration from mystics of all traditions, Entering the Castle is a comprehensive guide for the journey of your life -- a journey into the center of your soul. There, peace, God, and a fearless joy wait for you to discover them...and claim them for your own.
Praise For Entering the Castle: Finding the Inner Path to God and Your Soul's Purpose…
"Entering the Castle is...based on St. Teresa's seven interior mansions, which are explained and elaborated here...so beautifully, clearly, compassionately, lightheartedly, wondrously...[as] seven steps...to your own deepest self or soul. Teresa became not only a spiritual woman who had written a brilliant practice manual, but a saint who saved Caroline's life, showed her her soul, awakened her heart, and set her on the never-ending...timelessly fulfilled road of practice. I just know that Teresa would say 'amen' to this luminous book as the fruit of her calling to you, a calling to all of us to be mystics without monasteries in a world sorely in need of a touch of the divine...the true self in each and every one of us."

-- From the foreword by Ken Wilber, author of A Brief History of Everything and Integral Spirituality

"Caroline Myss's brilliant, brave, and profoundly moving book takes us deep into the burning heart of Teresa of Ávila's vision of divine consciousness. Seekers on all parts will find here mature wisdom and deep sacred passion expressed with thrilling directness and a fierce psychological precision worthy of Teresa herself."

-- Andrew Harvey, author of The Direct Path and Son of Man
Atria Books, 9780743255332, 416pp.
Publication Date: January 1, 2008
About the Author
Caroline Myss is the author of the New York Times bestselling books Invisible Acts of Power, Sacred Contracts, Why People Don't Heal and How They Can, and Anatomy of the Spirit, and is a pioneer and international lecturer in human consciousness. In 2003, she founded the CMED Institute, an educational program that specializes in intensive classes on archetypes, personal power, and mysticism. Her audiotapes include Entering the Castle (Hay House) and Why People Don't Heal and How They Can; Spiritual Madness; and Spiritual Power, Spiritual Practice (Sounds True). Her work is featured on her popular website www.myss.com. She lives in Oak Park, Illinois.