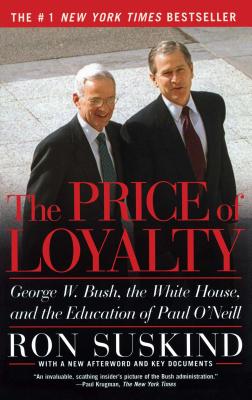 The Price of Loyalty
George W. Bush, the White House, and the Education of Paul O'Neill
Paperback

* Individual store prices may vary.
Other Editions of This Title:
Hardcover (1/1/2004)
Description
Updated with a new afterword and including a selection of key documents, this is the explosive account of how the Bush administration makes policy on war, taxes, and politics -- its true agenda exposed by a member of the Bush cabinet.
This vivid, unfolding narrative is like no other book that has been written about the Bush presidency. At its core are the candid assessments of former Secretary of the Treasury Paul O'Neill, the only member of Bush's cabinet to leave and speak frankly about how and why the administration has come to its core policies and decisions -- from cutting taxes for the rich to conducting preemptive war.
O'Neill's account is supported by Pulitzer Prize-winning journalist Ron Suskind's interviews with numerous participants in the administration, by transcripts of meetings, and by voluminous documents. The result is a disclosure of breadth and depth unparalleled for an ongoing presidency. As readers are taken to the very epicenter of government, Suskind presents an astonishing picture of a president so carefully managed in his public posture that he is a mystery to most Americans. Now, he is revealed.
Praise For The Price of Loyalty: George W. Bush, the White House, and the Education of Paul O'Neill…
The Times Blasts through the wall of silence surrounding the White House.


Financial Times The most spectacular attack on Bush by a former senior official.



Justin Webb, BBC The most sustained and damaging criticism of the Bush administration from a former insider since the President came to power.


New Yorker A damaging read...Our breezy President, if he is re-elected, may well find himself ruined by his refusal to heed O'Neill's warnings.


Sunday Times O'Neill's book is priceless.


Esquire The most explosive book of the year.


Guardian One of the most damning White House exposés of recent times.


Independent A considerable challenge to the official version of history.
Simon & Schuster, 9780743255462, 409pp.
Publication Date: September 2, 2004