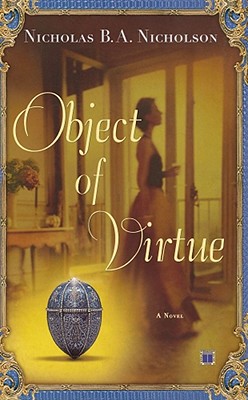 Object of Virtue
Paperback

* Individual store prices may vary.
Description
A dazzling debut about the power of family and the pain of betrayal set within Manhattan's Fifth Avenue apartments, the opulent mansions of the new Moscow, and the pre-revolutionary palaces of Saint Petersburg. Sasha Ozerovsky is a young expert in Russian art at Leighton's, an exclusive Manhattan auction house. When a dealer arrives from Moscow with an exquisite 1913 Faberg figurine, Sasha immediately recognizes a rare masterpiece. But in the high stakes art world, the price of an object is tied to its history. If Sasha can determine for whom the bejeweled piece was made and where it has been hiding for the past century, its value -- and Sasha's career -- will soar. But as Sasha moves between New York's high society and Russia's new rich, he discovers that the piece once belonged to his family, and he must face questions about their past that he never dared to ask. Superbly plotted and evoking the elegance of Russia's gilded age, Object of Virtue is an enthralling tale that explores what happens to a family torn between vanity and virtue.
Touchstone Books, 9780743257831, 304pp.
Publication Date: April 1, 2004
About the Author
Nicholas B. A. Nicholson is an expert in Russian Decorative Arts. He was a specialist with Christie's Russian Works of Art Department and was the American Coordinating Curator of the blockbuster exhibition Jewels of the Romanovs: Treasures from the Russian Imperial Court. He lives in New York City. Visit his website at www.nicholasbanicholson.com.