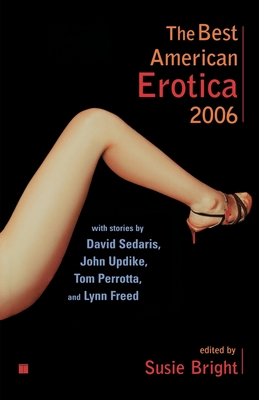 The Best American Erotica (Paperback)
Touchstone Books, 9780743258524, 238pp.
Publication Date: January 1, 2006
* Individual store prices may vary.
Description
Star-studded and with something for every sexual taste and curiosity Famous for taking her readers to undiscovered places, Susie Bright has changed the rules for writing about sex. Erotica is no longer under-the-covers reading; it's thrilling literature that showcases the best writing around. In Best American Erotica 2006, Bright chooses stories that toy with desire in excerpts from some of the most sexually charged and fearless writing of the year. John Updike's story recalls his narrator's first love and how they began to have sex. David Sedaris takes us into his strip poker card room. Tom Perrotta portrays a bored married man whose wife busts him as he navigates his Internet swinger life. Helen Walsh's diary shows a college student in England who drifts from a promis-ing academic career into the arms of prostitutes. In Best American Erotica 2006, today's most popular writers add their voices to a collection for any reader -- straight, gay, curious -- seeking memorable sex and riveting storytelling. Contributors John Updike, David Sedaris, Tom Perrotta, Steve Almond, Lynn Freed, Maxine Chernoff, Carol Queen, Helen Walsh, Stephen Elliott, Rachel Kramer Bussel, Bob Vickery, James Williams, Will Heinrich, Peggy Munson, Sera Gamble, Salome Wilde, Bianca James, Donna George Storey, Mr. Sleep, Gwen Masters, Gaea Yudron, Kweli Walker, L. Elise Bland, and Sidney Durham.