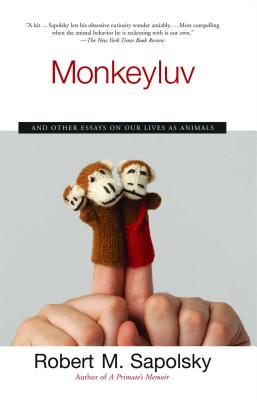 Monkeyluv: And Other Essays on Our Lives as Animals (Paperback)
And Other Essays on Our Lives as Animals
Scribner Book Company, 9780743260169, 209pp.
Publication Date: October 10, 2006
* Individual store prices may vary.
or
Not Currently Available for Direct Purchase
Description
How do imperceptibly small differences in the environment change one's behavior? What is the anatomy of a bad mood? Does stress shrink our brains? What does People magazine's list of America's "50 Most Beautiful People" teach us about nature and nurture? What makes one organism sexy to another? What makes one orgasm different from another? Who will be the winner in the genetic war between the sexes? Welcome to Monkeyluv, a curious and entertaining collection of essays about the human animal in all its fascinating variety, from Robert M. Sapolsky, America's most beloved neurobiologist/primatologist. Organized into three sections, each tackling a Big Question in natural science, Monkeyluv offers a lively exploration of the influence of genes and the environment on behavior; the social and political -- and, of course, sexual -- implications of behavioral biology; and society's shaping of the individual. From the mating rituals of prairie dogs to the practice of religion in the rain forest, the secretion of pheromones to bugs in the brain, Sapolsky brilliantly synthesizes cutting-edge scientific research with wry, erudite observations about the enormous complexity of simply being human. Thoughtful, engaging, and infused with pop-cultural insights, this collection will appeal to the inner monkey in all of us.
Praise For Monkeyluv: And Other Essays on Our Lives as Animals…
"Wry, witty prose...each essay brings its own unexpected delight."
-- Publishers Weekly (starred review)
Advertisement