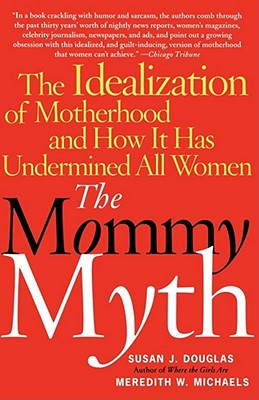 The Mommy Myth (Paperback)
The Idealization of Motherhood and How It Has Undermined All Women
Free Press, 9780743260466, 400pp.
Publication Date: February 8, 2005
Other Editions of This Title:
Hardcover (2/3/2004)
* Individual store prices may vary.
Description
Taking readers on a provocative tour through thirty years of media images about mothers -- the superficial achievements of celebrity moms, the sensational coverage of dangerous day care, the media-manufactured "mommy wars" between working mothers and stay-at-home moms, and more -- The Mommy Myth contends that this "new momism" has been shaped by out-of-date mores, and that no matter how hard they try, women will never achieve it. In this must-read for every woman, Susan J. Douglas and Meredith W. Michaels shatter the myth of the perfect mom and all but shout, "We're not gonna take it anymore!"
About the Author
Susan J. Douglas is the Catherine Neafie Kellogg Professor of Communication Studies at the University of Michigan. She is the author of Listening In: Radio and the American Imagination, Where the Girls Are: Growing Up Female with the Mass Media, and Inventing American Broadcasting, 1899-1922. Her journalistic articles have appeared in The Nation, Ms., In These Times, TV Guide, and The Progressive.

Meredith W. Michaels is a writer who doubles as a philosophy professor at Smith College. Her research and writing focus on the way that cultural changes affect our understanding of reproduction, parenthood, and childhood.
Praise For The Mommy Myth: The Idealization of Motherhood and How It Has Undermined All Women…
"An absolutely fascinating exposé...this eye-opening report contains a wealth of valuable insight into the never-ending, and ultimately self-defeating, quest for the maternal perfection glorified by contemporary American society."
-- Booklist

"In a book crackling with humor and sarcasm, the authors comb through the past thirty years' worth of nightly news reports, women's magazines, celebrity journalism, newspapers, and ads, and point out a growing obsession with this idealized, and guilt-inducing, version of motherhood that women can't achieve."
-- Chicago Tribune

"This is a book for mothers who can admit that they yell sometimes, feed their children processed food, and occasionally get bored playing Barbie camp-out under the dining room table....It's a book for mothers who would be okay with being imperfect, if only the rest of the world would stop pointing out their shortcomings."
-- The Washington Post