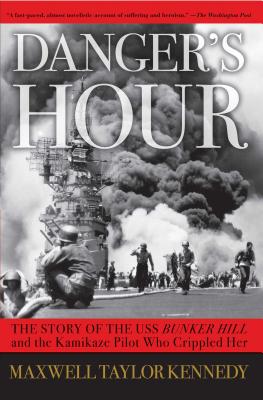 Danger's Hour
The Story of the USS Bunker Hill and the Kamikaze Pilot Who Crippled Her
Paperback

* Individual store prices may vary.
Other Editions of This Title:
Digital Audiobook (11/24/2008)
MP3 CD (11/25/2008)
Compact Disc (11/25/2008)
Hardcover (11/11/2008)
Compact Disc (11/25/2008)
Compact Disc (11/25/2008)
MP3 CD (11/25/2008)
Description
In the closing months of World War II, Americans found themselves facing a new and terrifying weapon: kamikazes -- the first men to use airplanes as suicide weapons.

By the beginning of 1945, American pilots were shooting down Japanese planes more than ten to one. The Japanese had so few metals left that the military had begun using wooden coins and clay pots for hand grenades. For the first time in 800 years, Japan faced imminent invasion. As Germany faltered, the combined strength of every warring nation gathered at Japan's door. Desperate, Japan turned to its most idealistic young men -- the best and brightest college students -- and demanded of them the greatest sacrifice.

On the morning of May 11, 1945, days after the Nazi surrender, the USS Bunker Hill -- a magnificent vessel that held thousands of crewmen and the most sophisticated naval technology available -- was holding at the Pacific Theater, 70 miles off the coast of Okinawa.

At precisely 9:58 a.m., Kiyoshi Ogawa radioed in to his base at Kanoya, 350 miles from the Bunker Hill, "I found the enemy vessels." After eighteen months of training, Kiyoshi tucked a comrade's poem into his breast pocket and flew his Zero five hours across the Pacific. Now the young Japanese pilot had located his target and was on the verge of fulfilling his destiny. At 10:02.30 a.m., as he hovered above the Bunker Hill, hidden in a mass of clouds, Kiyoshi spoke his last words: "Now, I am nose-diving into the ship."

The attack killed 393 Americans and was the worst suicide attack against America until September 11. Juxtaposing Kiyoshi's story with the stories of untold heroism of the men aboard the Bunker Hill, Maxwell Taylor Kennedy details how American sailors and airmen worked together, risking their own lives to save their fellows and ultimately triumphing in their efforts to save their ship.

Drawing on years of research and firsthand interviews with both American and Japanese survivors, Maxwell Taylor Kennedy draws a gripping portrait of men bravely serving their countries in war and the advent of a terrifying new weapon, suicide bombing, that nearly halted the most powerful nation in the world.
Praise For Danger's Hour: The Story of the USS Bunker Hill and the Kamikaze Pilot Who Crippled Her…
"This fascinating story of the deadliest kamikaze attack in World War II provides a vivid window on the war in the Pacific. But it also contains critically important insights for today's struggle against terrorists. Maxwell Taylor Kennedy shows how suicide bombers are recruited, the role they can play in asymmetric warfare, and how our military can be resilient in face of such attacks." -- Walter Isaacson, author of Benjamin Franklin: An American Life and Einstein: His Life and Universe

"This book is a triumph -- an original conception, a dramatic narrative superbly told, with lyrical portraits of brave men on opposite sides of a titanic struggle and impeccable research masterfully rendered. With Danger's Hour, Maxwell Taylor Kennedy's talents as a first-rate historian, an intrepid interviewer, and a wonderful writer are on full display." -- Doris Kearns Goodwin, author of Team of Rivals

"One of the little-known aspects of World War II was the role played by Japan's suicidal kamikaze pilots and their devastating impact on the U.S. Navy in the Pacific. Maxwell Taylor Kennedy tells their story in a detailed, vivid, credible, highly readable narrative." -- Stanley Karnow, author of Vietnam: A History

"This is a riveting, thought-provoking, superbly written history that unfolds and surprises like a novel. What we are permitted to participate in is nothing short of hell: a glimpse into the most asymmetrical warfare we Americans have ever faced -- the kamikaze pilot." -- Ken Burns, Filmmaker
Simon & Schuster, 9780743260817, 528pp.
Publication Date: November 3, 2009
About the Author
Maxwell Taylor Kennedy graduated from Harvard University and the University of Virginia School of Law. He taught environmental studies at Boston College, where he cofounded the Urban Ecology Institute. Mr. Kennedy served as a prosecutor for three years before he collected and edited his first book, Make Gentle the Life of This World: The Vision of Robert Kennedy. Maxwell Taylor Kennedy is an avid scuba diver and co-led an expedition that located the wrecks of a fleet of pirate ships off Venezuela. He also participated in the National Geographic Explorers search for PT 109. A devoted maritime historian, Mr. Kennedy is currently an Associate Scholar of the John Carter Brown Library, a Center for Advanced Research in History and the Humanities at Brown University. He lives in Los Angeles with his wife, Vicki, and their children, Maxey, Summer, and Noah.