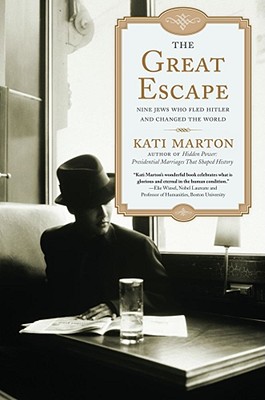 Great Escape (Paperback)
Great Escape
Simon & Schuster, 9780743261166, 288pp.
Publication Date: November 6, 2007
Other Editions of This Title:
Digital Audiobook (10/31/2006)
Hardcover (10/17/2006)
Compact Disc (11/1/2006)
Compact Disc (11/1/2006)
MP3 CD (11/1/2006)
* Individual store prices may vary.
Description
Extravagantly praised by critics and readers, this stunning story by bestselling author Kati Marton tells of the breathtaking journey of nine extraordinary men from Budapest to the New World, what they experienced along their dangerous route, and how they changed America and the world.

This is the unknown chapter of World War II: the tale of nine men who grew up in Budapest's brief Golden Age, then, driven from Hungary by anti-Semitism, fled to the West, especially to the United States, and changed the world. These nine men, each celebrated for individual achievements, were part of a unique group who grew up in a time and place that will never come again. Four helped usher in the nuclear age and the computer, two were major movie myth-makers, two were immortal photographers, and one was a seminal writer.

The Great Escape is a groundbreaking, poignant American story and an important untold chapter of the tumultuous last century.
About the Author
Kati Marton is the author of True Believer: Stalin's American Spy; Enemies of the People: My Family's Journey to America, a National Book Critics Circle Award finalist; The Great Escape: Nine Jews Who Fled Hitler and Changed the World; Hidden Power: Presidential Marriages That Shaped Our History; Wallenberg; The Polk Conspiracy; and A Death in Jerusalem. She is an award-winning former NPR and ABC News correspondent. She lives in New York City.
Praise For Great Escape: Great Escape…
"Describes the crossroads where art and politics meet, the perils of dictatorship and the horrors of war, all of it punctuated by the frantic struggle to create the atomic bomb.... Deserves a special place on bookshelves alongside Budapest 1900." -- Robert Leiter, The New York Times Book Review

"No exaggeration at all is needed to stress the importance of these individuals, who really did 'change the world,' as the book's subtitle has it.... No false melodrama is needed for Marton to make this an intensely gripping story.... For a European, this story -- with its reminder of horrors still within living memory -- is painful and absorbing to read." -- Geoffrey Wheatcroft, The Washington Post Book World

"Marton, who fled Hungary as a child in 1957, illuminates Budapest's vertiginous Golden Age and the darkness that followed.... By looking at these nine lives -- salvaged, and crucial -- Marton provides a moving measure of how much was lost." -- The New Yorker

"The Great Escape is a good fit for Kati Marton's multifarious talents, requiring deep knowledge of the history and culture of Budapest, the analytical abilities of a seasoned reporter and a keen understanding of what it means to leave one's country behind.... While the work of uncovering this neglected piece of history required the skills of a worldly journalist, the telling came from the heart.... This is a book that should be read with special care." -- Kimberly Marlowe Hartnett, The Seattle Times

"Noted journalist and bestselling author Marton offers a haunting tale of the wartime Hungarian diaspora.... Marton intricately charts each man's career in the context of WWII and Cold War history.... Marton captures her fellow Hungarians' nostalgia for prewar Budapest, evoking its flamboyant cafes, its trams, boulevards and cosmopolitan Jewish community. Marton writes beautifully, balancing sharply defined character studies of each man with insights into their shared cultural traits and uprootedness." -- Publishers Weekly (starred review)

"Filled with a number of wonderful anecdotes.... Marton's book makes you want to reread Darkness at Noon and get to Blockbuster to rent Casablanca." -- Jennifer Hunter, Chicago Sun-Times

"An engrossing book.... Marton does such a good job of introducing her subjects, showing how they persevered through prejudice and personal problems to shape their times, that she leaves the reader wanting to learn more. Highly recommended." -- Library Journal

"Just when you thought you'd heard all the stories about World War II, along comes The Great Escape, a great read and a long overdue account of the remarkable lives of a small band of greatly gifted Hungarians who made profoundly important contributions to the American effort. Kati Marton tells this astonishing story with grace and passion, a sharp eye for the telling detail and the broad sweep of history." -- Tom Brokaw, author of The Greatest Generation

"A moving account of nine emigrants from Hungary who changed our world and their professions -- a remarkable testament to the intrepid human spirit." -- Henry Kissinger

"Fascinating!...The story of nine men who grew up in Budapest and were driven from Hungary by fascism, just one step ahead of Hitler's era of terror. They came to the West, especially the United States, and their tremendous achievements changed life for us all." -- Betty E. Stein, Fort Wayne News Sentinel (Indiana)