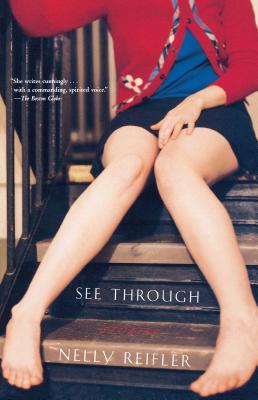 See Through (Paperback)
Stories
Simon & Schuster, 9780743261500, 148pp.
Publication Date: January 19, 2006
* Individual store prices may vary.
Description
By turns electrifying and haunting, the stories in Nelly Reifler's debut collection, now available in paperback, imagine a world where the emotional logic of dreams and childhood fantasies rules our actions. In the title story, an educated young woman sits behind the glass of a talk booth in a peep show and becomes a different girl for each man who visits. "The Splinter" posits a thorn in a little girl's scalp as the physical locus for a father's wrenching grief and helplessness following his wife's desertion. In "Teeny," an awkward, pubescent girl can't bring herself to perform the simple task of feeding the vacationing neighbors' cats. In "Baby," an infant asks his mother existential questions that are impossible to answer. Exploring her characters' psyches with the precision of an anthropologist, Reifler illuminates physical urges, crippling fears, stark isolation, and overwhelming, often transgressive desires. Through it all, the author plumbs the deep chasm between expectation and reality with boundless hope, warmth, and wisdom.
Praise For See Through: Stories…
Siri Hustvedt author of What I Loved In prose that shines with precision and clarity, Nelly Reifler's stories take the reader into the opaque and frequently disturbing realms of human estrangement and desire. Intelligent, honest, and mordantly funny, See Through is an impressive work by a writer of rare gifts.



Mary Morris author of Acts of God These stories have an eeriness that comes from their emotional precision. Reifler writes with her eyes set on a target and comes up with just the right gesture to reveal what is hidden, the right detail to break our hearts. We ache at the vulnerability of children in need of monsters and the casual suffering perpetrated on them by their elders -- parents who break promises or can't make things right. These are stories to savor, then weep.



Darin Strauss author of The Real McCoY and Chang and Eng Nelly Reifler has a wild, ironic, accomplished voice. For all their dark comedy, Reifler's stories perfectly depict the winds of listlessness and sadness that blow through our lives and leave us chilled. These little stories contain the huge unnerving conviction of an authentic writer.



Jacki Lyden host, National Public Radio, author of Daughter of the Queen of Sheba Nelly Reifler's unnerving stories are brilliantly observed through a glass darkly...and on the other side we see that every mortal soul, no matter how young or old, is as vulnerable as a flower in the wind.