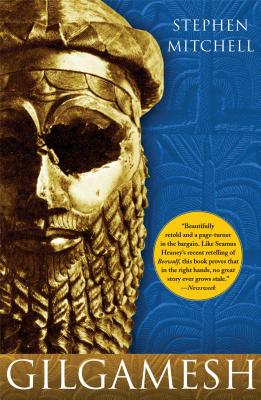 Gilgamesh (Paperback)
A New English Version
Atria Books, 9780743261692, 290pp.
Publication Date: January 1, 2006
* Individual store prices may vary.
Description
Gilgamesh is considered one of the masterpieces of world literature, but until now there has not been a version that is a superlative literary text in its own right. Acclaimed by critics and scholars, Stephen Mitchell's version allows us to enter an ancient masterpiece as if for the first time, to see how startlingly beautiful, intelligent, and alive it is.
Praise For Gilgamesh: A New English Version…
"Beautifully retold and a page-turner in the bargain. Like Seamus Heaney's recent retelling of Beowulf, this book proves that in the right hands, no great story ever grows stale."



-- Newsweek




"A flowing, unbroken version that reads as effortlessly as a novel...with startlingly familiar hopes, fears, and lusts. Mitchell...cracks open the lessons in Gilgamesh by rebuilding its clay fragments into a poem easy on the eyes and the transcultural imagination....Vibrant, earnest, unfussily accessible.... The muscular eloquence and rousing simplicity of Mitchell's four-beat line effectively unleash the grand vehemence of the epic's battle scenes, and the characters' ominous visions emerge with uncanny clarity."



-- The New York Times Book Review




"Utterly enthralling reading, thanks to Mr. Mitchell's skill and flair in recasting the ancient text."



-- The New York Sun




"Seamus Heaney isn't the only one intent on making the classics relevant to our times. Mitchell...offers a limpid retelling of this story about absolute power.... Its message of love, loss, and endurance [is] rendered in fresh, forceful language."



-- Los Angeles Times




"The mysterious, sinewy surge of his verse [is] thoroughly modern, yet an uncanny evocation of the primeval."



-- The Boston Globe