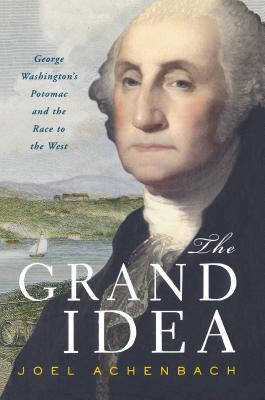 Grand Idea: George Washington's Potomac and the Race to the West (Paperback)
George Washington's Potomac and the Race to the West
Simon & Schuster, 9780743263009, 384pp.
Publication Date: June 2, 2005
Description
The Grand Idea follows George Washington in the critical period immediately after the War of Independence. The general had great hopes for his young nation, but also grave fears. He worried that the United States was so fragmented politically and culturally that it would fall apart, and that the "West," beyond the Appalachian mountains, would become a breakaway republic. So he came up with an ambitious scheme: He would transform the Potomac River into the nation's premier commercial artery, binding East and West, bolstering domestic trade, and staving off disunion. This was no armchair notion. Washington saddled up and rode west on a 680-mile trek to the raucous frontier of America.
Achenbach captures a Washington rarely seen: rugged frontiersman, real estate speculator, shrewd businessman. Even after his death, Washington's grand ambition inspired heroic engineering feats, including an audacious attempt to build a canal across the mountains to the Ohio River. But the country needed more than commercial arteries to hold together, and in the Civil War, the general's beloved river became a battlefield between North and South.
Like such classics as Undaunted Courage and Founding Brothers, Achenbach's riveting portrait of a great man and his grand plan captures the imagination of the new country, the passions of an ambitious people, and the seemingly endless beauty of the American landscape.
Praise For Grand Idea: George Washington's Potomac and the Race to the West…
"Truly riveting....Achenbach allows the reader to understand the real Washington in so many new ways he literally grows in stature."
-- Douglas Brinkley, The Boston Globe




"A magnificent display of impeccable scholarship blended with incomparable storytelling."
-- Fort Worth Star-Telegram




"This is history as storytelling, driven by personalities and ideas."
-- USA Today




"Reveals a dimension of the man not often seen -- that of Washington as a dreamer....He too had dreams, and happily for readers, Achenbach rediscovers them."
-- The Washington Monthly
Advertisement