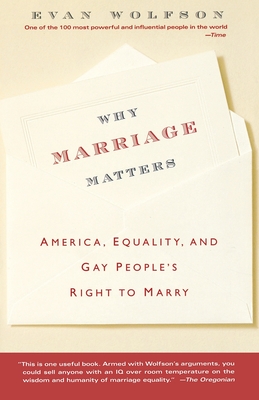 Why Marriage Matters
America, Equality, and Gay People's Right to Marry
Paperback

* Individual store prices may vary.
Description
At its core, the freedom-to-marry movement is about the same thing every civil rights struggle has been about: taking seriously our country's promise to be a nation its citizens can make better, its promise to be a place where people don't have to give up their differences or hide them in order to be treated equally.
Why Marriage Matters offers a compelling, intelligently reasoned discussion of a question at the forefront of our national consciousness. It is the work of one of the most influential attorneys in America, who has dedicated his life to the protection of individuals' rights and our Constitution's commitment to equal justice under the law. Above all, it is a clear, straightforward book that brings into sharp focus the very human significance of the right to marry in America -- not just for some couples, but for all.
Why is the word marriage so important? Will marriage for same-sex couples hurt the sanctity of the institution? How can people of different faiths reconcile their beliefs with the idea of marriage for same-sex couples? How will allowing gay couples to marry affect children?
In this quietly powerful volume, the most authoritative and fairly articulated book on the subject, Wolfson demonstrates why the right to marry is important -- indeed necessary -- for all couples and for America's promise of equality.
Praise For Why Marriage Matters: America, Equality, and Gay People's Right to Marry…
Newsday a concise, logical primer...well worth reading...a book that supporters of gay marriage could give to friends and relatives who are undecided on the issue (or only mildly opposed)



Out Magazine Each chapter is an excellent and sensible essay responding to common questions same-sex couples get asked. Order a pile...and start handing them out to family, colleagues, and friends.



Gay City News Anybody interested in engaging in the current policy debates can find the information and arguments they will need in this compact, well-organized book that is both easy and pleasant to read.



Portland (OR) Mercury August 5, 2004 ...concise and efficient arguments...Thanks to this book, I now feel capable of having productive discussions about equal marriage.



The Oregonian August 1, 2004 ...this is one useful book. Armed with Wolfson's arguments, you could sell anyone with an IQ over room temperature on the wisdom and humanity of marriage equality.



Library Journal To his credit, the author addresses head-on religious objections to gay marriage....Well written and evenhanded....Recommended.



Publishers Weekly ...refreshing, smart, thorough, and easy to follow.



Kirkus Reviews ...thoughtful, reasonable, and eminently worthy.



"Seasoned Authors, Reasoned Arguments" - marriage books by Andrew Sullivan and Evan Wolfson, Bay Window ...accessible to the layperson on both technical and emotional levels.
Simon & Schuster, 9780743264594, 256pp.
Publication Date: May 1, 2005