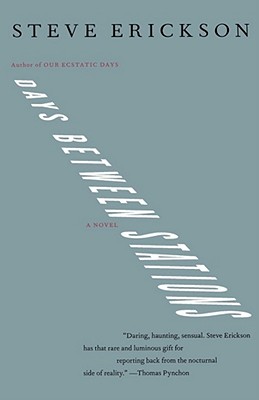 Days Between Stations
Paperback

* Individual store prices may vary.
Other Editions of This Title:
Paperback (4/1/1997)
Paperback (8/1/1986)
Description
In a world of cataclysm and unraveled time, a young woman's face, a misbegotten childhood in a Parisian brothel, and the fragment of a lost movie masterpiece are the only clues in a man's search for his past. Steve Erickson's Days Between Stations is the stunning, now classic dream-spec of our precarious age -- by turns beautiful and obsessed, haunted and hallucinated, in which lives erotically collide, the past ambushes the future, and forbidden secrets intercut with each other like the frames of a film.
Praise For Days Between Stations…
"There isn't a risk that Steve Erickson hasn't taken in this novel. One gets the feeling that he's laid everything on the line."
-- Los Angeles Times




"One of the most important writers of his generation. Erickson's work feels like right here, right now. Against it, most new fiction reads like it was written by stenographers."
-- The Atlanta Journal-Constitution




"Erickson is a gambler, one of the fabulous mythmakers who are needed in these times of deprivation of the imagination."
-- The New York Times Book Review
Simon & Schuster, 9780743265690, 256pp.
Publication Date: February 1, 2005