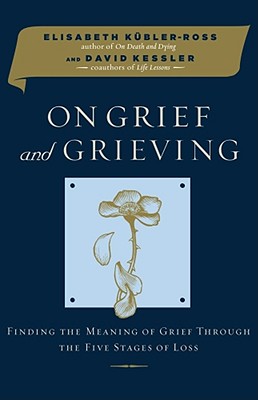 On Grief and Grieving
Finding the Meaning of Grief Through the Five Stages of Loss
Hardcover

* Individual store prices may vary.
Other Editions of This Title:
Digital Audiobook (2/18/2019)
Paperback (8/12/2014)
Compact Disc (2/19/2019)
Paperback (6/5/2007)
Description
Shortly before her death in 2004, Elisabeth Kübler-Ross and David Kessler, her collaborator, completed the manuscript for this, her final book. On Grief and Grieving is a fitting completion to her work. Thirty-six years and sixteen books ago, Kübler-Ross's groundbreaking On Death and Dying changed the way we talk about the end of life. Now On Grief and Grieving will profoundly influence the way we experience the process of grief.
On Death and Dying began as a theoretical book, an interdisciplinary study of our fear of death and our inevitable acceptance of it. It introduced the world to the now-famous five stages: denial, anger, bargaining, depression, and acceptance. On Grief and Grieving applies these stages to the process of grieving and weaves together theory, inspiration, and practical advice, all based on Kübler-Ross's and Kessler's professional and personal experiences, and is filled with brief, topic-driven stories. It includes sections on sadness, hauntings, dreams, coping, children, healing, isolation, and even the subject of sex during grief.
"I know death is close," Kübler-Ross says at the end of the book, "but not quite yet. I lie here like so many people over the years, in a bed surrounded by flowers and looking out a big window....I now know that the purpose of my life is more than these stages....It is not just about the life lost but also the life lived."
In one of their final writing sessions, Kübler-Ross told Kessler, "The last nine years have taught me patience, and the weaker and more bed-bound I become, the more I'm learning about receiving love."
On Grief and Grieving is Elisabeth Kübler-Ross's final legacy, one that brings her life's work profoundly full circle.
Praise For On Grief and Grieving: Finding the Meaning of Grief Through the Five Stages of Loss…
"Elisabeth Kuebler-Ross left us one last gift, and it's a masterpiece. Having illumined the subject of death, she has now illumined the subject of grief. She and grief expert David Kessler have written a modern classic, the kind of book that all of us will want to keep on our bookshelves because we know it speaks to our deepest hearts."
-- Marianne Williamson

"Elisabeth Kuebler-Ross deserves to be remembered because her life and work have made this world a better place. On Grief and Grieving is a heartfelt tribute to all who have lost a loved one, from a woman who changed our lives by changing our relationship to death and dying. What a wonderful book Elisabeth and David have written."
-- Caroline Myss
Scribner, 9780743266284, 256pp.
Publication Date: July 19, 2005
About the Author
Elisabeth Kübler-Ross, MD, [1926–2004] was a Swiss-born psychiatrist, humanitarian, and co-founder of the hospice movement around the world. She was also the author of the groundbreaking book
On Death and Dying
, which first discussed The Five Stages of Grief. Elisabeth authored twenty-four books in thirty-six languages and brought comfort to millions of people coping with their own deaths or the death of a loved one. Her greatest professional legacy includes teaching the practice of humane care for the dying and the importance of sharing unconditional love. Her work continues by the efforts of hundreds of organizations around the world, including The Elisabeth Kübler-Ross Foundation:
EKRFoundation.org
.
David Kessler is the world's foremost expert on grief. His experience with thousands of people on the edge of life and death has taught him the secrets to living a fulfilled life, even after life's tragedies. He coauthored
On Grief and Grieving
and
Life Lessons
with Elizabeth Kübler-Ross and
You Can Heal Your Heart: Finding Peace After a Breakup, Divorce or Death
with Louise Hay. He is the author of
Finding Meaning, Visions, Trips, and Crowded Rooms,
and
The Needs of the Dying
, praised by Mother Teresa.
David's work has been featured in the
New York Times
,
Los Angeles Times
,
Business Week
, and
Life
Magazine, and on CNN, Fox, NBC, PBS, and CBS. David has served on the Red Cross Aviation Disaster Team and has volunteed for decades as a Los Angeles Police Department Specialist Reserve Officer. He lectures for physicians, nurses, counselors, police, and first responders and leads talks and retreats for those dealing with grief.
or
Not Currently Available for Direct Purchase