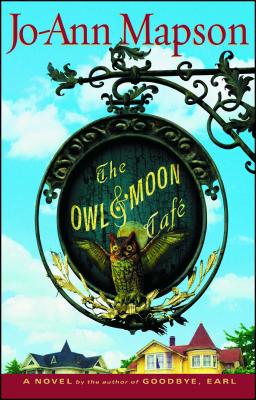 The Owl & Moon Cafe
A Novel
Paperback

* Individual store prices may vary.
Description
After losing her teaching position at the local university, Mariah Moon will do anything to keep her gifted twelve-year-old daughter, Lindsay, in a prestigious private school -- which means moving in with her mother and grandmother in an apartment above The Owl & Moon Café.

When her mother, Allegra, is diagnosed with leukemia, Mariah rises to the challenge of running the café: mastering her mother's famous fudge and chatting up customers -- including a man who might just reawaken her heart. Meanwhile, Lindsay's controversial entry in a major national science contest creates a minor maelstrom in the cosseted Monterey Bay community. And Allegra, with one last great love affair in her, will revisit a man she loved so many years ago, and disclose the biggest secret of the Moon family: the identity of Mariah's father.

Will the Moon women recognize this as the moment to do away with their family history of dubiously fathered children, and learn to forgive others and themselves in order to move forward? In her poignant new novel, bestselling author Jo-Ann Mapson explores the complexities of love and family with the keen eye and stylistic grace that have made her books perennial favorites.
Praise For The Owl & Moon Cafe: A Novel…
"A wonderful, engaging story about four generations of Western women. As always, Jo-Ann Mapson creates a quirky, lovable cast of characters as real as your next-door neighbors. Every woman will see someone she knows in this heartfelt, fast-paced slice-of-life novel."
-- Kristin Hannah, author of Magic Hour

"If you haven't discovered Jo-Ann Mapson yet, you're in for the finest of treats -- her books will move you from out-loud laughter to bittersweet tears, and leave you wondering when the next novel will come out. The Owl & Moon Café is no exception -- a story of being lost and found again; of love in sickness, health, and everything in between; a fictional world filled with women you will feel like you already know and never want to let leave. I read it in one sitting; my only gripe is that it had to end."
-- Jodi Picoult, New York Times bestselling author of The Tenth Circle, Vanishing Acts, and My Sister's Keeper
Simon & Schuster, 9780743266413, 368pp.
Publication Date: July 3, 2006
About the Author
Jo-Ann Mapson is the author of eight novels. She teaches fiction in the MFA program at the University of Alaska, and lives with her husband and four dogs in Anchorage, Alaska, where she is at work on a new novel. Visit her at www.joannmapson.com.